Not many things can boost your mood like sparkling clean windows. Beyond just being basic home maintenance, this chore lets the sunlight in, brightens each room, and makes your home look beautiful from the inside and the outside. Here are the answers to some common myths and questions to help you plan the window cleaning job for your home!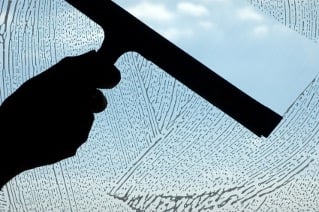 MYTH 1: You should only clean your windows on a cloudy day.
TRUTH: It can be challenging to successfully clean your windows on a sunny day because the cleaning solution will dry almost instantly after you apply it to the glass. This can result in streakiness and/or a cloudy residue. However, there's no need to save window cleaning for a cloudy day. Hire skilled window cleaners who can easily and effectively clean windows in all types of weather, including bright sunny weather, by formulating their window cleaning solution with a wetting agent. The wetting agent extends the working time that the window cleaner has to apply it and properly scrub and squeegee the window. Even with this wetting agent, great window cleaners need to work quickly. It's important to hire highly rated window cleaning companies who train their technicians on the right way to clean efficiently!
MYTH 2: You MUST ONLY use highly specialized cleaning solutions and a squeegee if you really want clean windows.
TRUTH: You can achieve clean windows with a cleaning solution made from one drop of mild dish soap mixed with one gallon of water. (If hard water comes out of your tap, using distilled water is a good idea but not required.) If your window glass has hard water spots, you may choose to add 1-part vinegar to 1-part water as well. For truly sparkling windows, you do want to use a squeegee and a window washer scrub pad (a removable, washable scrub sleeve placed over a t-bar tool). If you buff the glass with a towel rather than squeegee it, you'll likely be left with steaky windows. If you don't have a t-bar and scrub pad, you can try using a clean microfiber cloth soaked in the solution to wet and gently scrub the glass.
MYTH 3: Technique doesn't matter.
TRUTH: In an expert window cleaning job, everything matters. A cleaning solution of dish soap and water will work very well, but the specially formulated cleaning solutions used by highly rated window cleaning professionals will even enable the glass to stay cleaner longer. It matters that you use a squeegee that is sized appropriately for your windowpanes. And technique does matter. Professional window cleaners are trained to apply the right amount of cleaning solution, then scrub the glass to remove salt and grime buildup, cobwebs, etc., and then pull the squeegee so that each pane is cleaned thoroughly and efficiently.
Your home deserves the best, and that means a call to First Coast Home Pros and our team of window cleaning experts! First Coast Home Pros is the best window cleaning company Jacksonville FL homeowners in Mandarin, Riverside, San Marco, and Ponte Vedra Beach call on for the windows in their homes. Give us a call and get ready to enjoy clean windows and a beautiful view all season long!