We're very proud to announce that First Coast Home Pros offers handyman services! If you have a shower that needs to be re-caulked, leaks that need to be fixed, a sink that needs to be installed, or a ceiling fan that needs to be replaced, the solution to all of these problems is a visit from our professional handyman. Our customers in Ponte Vedra, Atlantic Beach, San Marco, and throughout Jacksonville FL are calling on our handyman team and loving the results!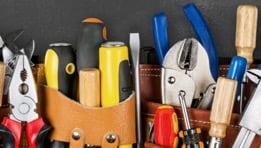 Here are 3 reasons you'll love our First Coast Home Pros handyman services:
· Trust – First Coast Home Pros is already the company you trust to take care of your home.
· Time – If you hire a professional handyman for your to-do list, he'll take care of everything on the list and you'll have that time for yourself!
· Convenience – We'll take care of everything – scheduling the work, getting the supplies (unless you already have them on hand), and of course, doing all the work! All you have to do is pick up the phone and call us to book the appointment.
· Quality – It's nice to have a neighbor or family member to call on to fix things around your house now and then, but nothing beats the high-quality work of a professional handyman with decades of experience!
When it comes to hiring a handyman, you want someone you can rely on, and First Coast Home Pros is the trusted name in home cleaning, repairs, and maintenance.First Coast Home Pros has the best handyman service Jacksonville FL homeowners are calling on for their needs, and we'd love the chance to take care of your home too!