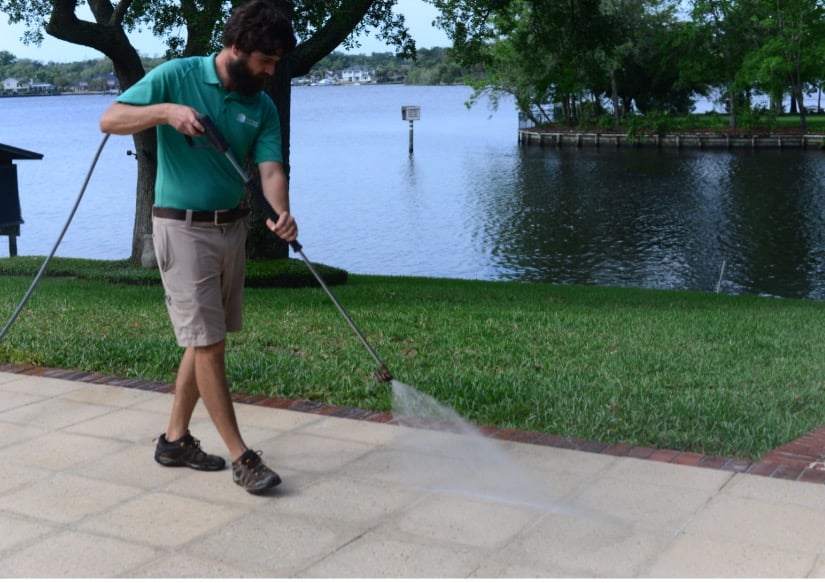 One of the best ways to keep your home and property tidy and in great shape is to routinely pressure wash your hardscapes, or to hire the best local pressure washing company to do it for you. In either case, here are four surfaces that need to be pressure washed:
Siding

– Nearly any type of siding and house exterior can be pressure washed, as long as the water pressure is adapted to clean the surface without causing damage, and as long as the appropriate cleaning solutions and techniques are used. Wood siding, cedar shake, vinyl plank, brick, stone, and even coquina can all be deep cleaned with pressure washing. When you call on the best pressure washing service in your area, you can trust the professionals will avoid harsh chemicals and instead, use the right PSI and cleaning solution mixture to safely clean your home top to bottom.

Driveway & Walkway

– Grime and mildew build up quickly on driveways and walkways, but great professional pressure washers can obliterate the buildup in no time, using high quality cleaning solutions and power washing equipment.

Patio

– Patio pavers benefit greatly from high quality pressure washing. The gaps and channels between pavers fill up with soil, moss, and debris, but the right combination of gentle cleaning solutions and pressurized water will remove these, leaving your patio clean and inviting.

Fence & Deck

– Is algae building up on the shady side of your fence or deck? The best professional pressure washers can clean the wood surfaces around your home safely and effectively. Extremely high pressure can damage soft wood surfaces irreparably, so be sure to call on a trusted and highly rated pressure washer so you'll know the job will be done right!
Other hard surfaces and areas around your home may also be able to be safely power washed. For example, pressure washing can get your kids' playground equipment cleaner than ever, as long as you use the right water pressure, cleaning solutions, and technique, or call on a trusted professional cleaning company to get the job done.
There are many great pressure washing companies in the area, but First Coast Home Pros is the best pressure washing service Jacksonville FL homeowners know will clean their homes the right way! Our pressure washing teams have served Atlantic Beach, Mandarin, San Marco, Riverside, and the Beaches for years, and our customers trust and rely on us. When the time comes to pressure wash your home, call on First Coast Home Pros!