Saltillo tiles are popular throughout Jacksonville, Ponte Vedra Beach, and St. Augustine homes for several reasons. The large terra cotta tiles have a timeless aesthetic, having been used in beautiful homes for centuries. They're made of soft, unprocessed clay and are highly porous, which makes them comfortable to walk on, and gives them a cool feel in hot weather and warmth in winter. However, it's this very soft and extremely porous nature that can make them tricky to maintain. Here are our tips for keeping Saltillo flooring clean and in great shape!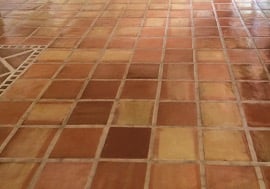 Sweep & Dust Routinely – Use a broom or dust mop to go over your Saltillo tiled areas at least once weekly.

This will generally keep them looking great and will make it easier for you when the time comes to wet mop or deep clean the floors.

Neutral Cleaning Solutions – When wet cleaning Saltillo tile, whether you use a mop or clean them by hand, use a neutral cleaning solution that is specially formulated for cleaning tile and stone.

Avoid cleaning solutions that are highly acidic or highly alkaline.

Always use the cleaning solution according to the manufacturer's instruction.

If you're trying a cleaner for the first time, we always recommend cleaning a small, inconspicuous area of the floor first to make sure it won't cause damage to the tile.

If you're worried about choosing the right cleaning products for your Saltillo tile, call on a highly rated Jacksonville tile cleaning company to do the job for you!

Seal the Tile – We often recommend that Saltillo tiles are sealed.

This helps ensure your kitchen, hall, entryway, and other tiled areas stay in good shape.

A good sealer prevents liquids from quickly absorbing into the clay tiles, which can cause damage.

This gives you more time to clean up spills when they happen.

The best professional tile cleaning companies will offer several sealers so you can choose whether you want high gloss or a more natural look.

Do Not Apply Oil or Wax – Avoid the archaic practice of applying oil and then wax to your Saltillo tile.

This outdated process causes more damage and hassle than protection to your beautiful Saltillo tiling, and can make it impossible to properly care for or seal the tile going forward.
Saltillo tiles add warmth, beauty, and history to your home, but don't let them also add frustration! A great Jacksonville tile and grout cleaning company can deep clean, seal, and protect your Saltillo tile. First Coast Home Pros is the best tile cleaning service Jacksonville FL homeowners call on for deep cleaning and sealing ceramic, porcelain, marble, travertine, Saltillo, and more! Our tile cleaning technicians have years of experience cleaning and caring for all types of stone, tile, and grout, and we'd love the opportunity to take care of your kitchen, bathroom, and mudroom as well.