There are several misconceptions and myths circulating about carpet cleaning. Let us set the record straight!
MYTH: Carpet cleaning makes carpets soggy.
Stepping onto wet carpet is a terrible feeling. Fortunately, if you hire one of the best carpet cleaning companies in town, you won't experience that feeling. Great carpet cleaners use the double extraction technique, which means the water and cleaning solutions that are injected into the carpet to clean it are then vacuumed out TWICE in order to be sure all carpet is left soft, clean, and quick-to-dry.
MYTH: It doesn't matter what carpet cleaning method I choose for my carpet.
Discerning homeowners and carpet manufacturers agree: the best method of carpet cleaning is the hot water extraction method. This method combines extremely hot water, extremely strong suction, and the right cleaning solutions to get carpets thoroughly clean. Foam extraction, rotary shampoo, and absorbent pad cleaning will not make your carpets as clean as hot water extraction will. For the best carpet cleaning job, find the best carpet cleaners in your area who train their employees in the steam cleaning method and use the best cleaning solutions on the market.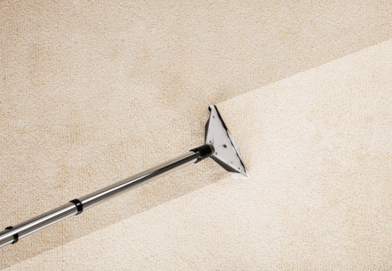 MYTH: Carpet only needs to be professionally cleaned if it has stains.
Certain styles, colors, and types of carpet are great at hiding dirt and stains. However, this doesn't mean that the dirt and stains aren't there. You track in all kinds of dust, bacteria, debris, hair, sand, and other such matter, which gets ground into your carpet fibers. Routine vacuuming does a good job of keeping this dirt and debris somewhat under control, but household vacuum cleaners cannot remove nearly as much dust, debris, dander, etc. as a great professional carpet cleaning team can.
MYTH: DIY carpet cleaning is the same as professional carpet cleaning.
Buying or renting a DIY carpet cleaning machine is appealing to some. However, most machines can't provide the suction power that professional-grade carpet cleaning machines provide. Without the right suction power, your carpet will be left wet, which is not only unappealing to walk on, but can also lead to mildew growth and other major problems. Inadequate suction can also leave a residue behind on your carpet fibers. It's best to leave carpet cleaning to the professionals and leave the DIY carpet cleaning machinery there at the store.
MYTH: All carpet cleaning companies are the same.
There are great carpet cleaning companies out there and then there are those that want to rip you off or do a poor quality job on your carpet. Good professional carpet cleaners have been trained to know the perfect amount of water and cleaning solution to get your carpet extremely clean. Just as importantly, they know how to extract as much moisture as possible from your carpet so that it dries quickly and completely. Find the carpet cleaning company that invests in high quality machinery, is bonded and insured, hires great people, and provides them with the training they need.
First Coast Home Pros is the best Jacksonville FL carpet cleaning company, serving Riverside Avondale, Ortega, Fleming Island, Ponte Vedra Beach, and more. Carpet cleaning is our expertise, and it shows: our technicians are highly trained and experienced, and our truckmount carpet cleaning machinery is the best there is. We never over-wet carpet, and we carefully double extract every area we clean, leaving your carpet soft and clean and able to dry quickly and evenly. Call on us and your carpets will be looking and feeling great in no time!