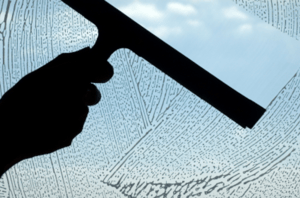 You love your house a little more when the windows are clean. When the windows are clean, the sun streams in, your view is crystal clear, and your entire home looks cleaner inside and out. The question is whether to clean the windows yourself or hire a great professional window cleaning company. Here are five reasons to hire the pros:
You don't have the right equipment.

Top quality cleaning solutions and tools are required to get windows truly clean. A good professional window cleaner has access to the best cleaning solutions in the industry, and has very specific squeegees, blades, cleaning cloths, ladders, and other supplies that homeowners simply don't have on hand, and the results show.

Your windows have insect nests or other issues.

It's likely the corners of your windows have various nests, webs, excrement, and other signs of insect infestation. Here in Northeast Florida, even the cleanest and best kept homes have bugs on, in, and around them. Window cleaning professionals have experience dealing with these infestations and know how to clean them away thoroughly and safely.

You have shutters, blinds, screens, or window treatments. Anything that is on or around a window can be a hassle to deal with, and most homeowners would rather skip this entire part of the process. Removing screens, unscrewing blinds, and handling window treatments is a nuisance, and worse still is reinstalling everything when the job is done. Find a highly rated window cleaning company in your area and the team will take care of all of this, treating each item with care, and cleaning the windows thoroughly in the process. A great window cleaning company will also clean the screens for you and even repair them when needed, and may also be able to recommend or provide upholstery cleaning for draperies and window treatments if you'd like to get the whole window area spic and span.
You want your windows to be VERY clean.

Even well-intentioned homeowners leave streaks, spots, puddles, smudges, and other such issues on the windows after they've cleaned them. If you want truly sparkling windows, with every corner and sill spotless, you'll need to call on trained window cleaning professionals.

You have other things to do.

You're busy, and the last thing you need to do is spend your free time soaking wet or sticky with detergent, fooling around with ladders, cleaning the windows of your house. Find a great window cleaning company, trust the job to the professionals, and do what you'd rather do.
First Coast Home Pros is the best window cleaning company Jacksonville FL homeowners call on for their homes. Our teams of window cleaning experts will give your windows a deep cleaning like they've never had before. We use the best cleaning solutions in the industry, and are equipped to thoroughly clean any type of window your house may have. Riverside, Mandarin, Fleming Island, Jacksonville, and Ponte Vedra homeowners trust us to clean their windows whenever needed, and we'd love to do the same for you.