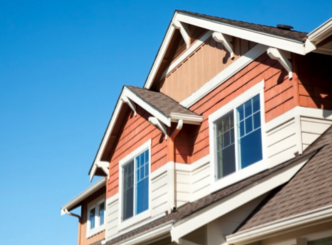 There are countless shows on TV about getting your house ready to sell. The stars of these shows, as well as your own realtor and neighbors no doubt tout the importance of a spotless home, but don't give much guidance beyond that - that's where we come in! Spring is the best time to sell a house, so let's get your home ready for the market.
Step 1: Declutter.
Go through each room in the house and get rid of what you no longer need. Throw out all trash and broken items, and donate any items you no longer use. Any personal items you choose to keep can be packed up, or at least should be stored out of sight. Many homeowners choose to rent a storage space during this time, so that they can keep their belongings out of sight, but still have access to them before packing up and making the move.
Step 2: Clean the exterior of the house.
The exterior of your home is the first thing potential buyers will see when they pull up. That being said, make sure the outside of the house is clean and inviting! A great pressure washing service will take care of all hard surfaces around your home and property, including patio pavers, sidewalks, driveways, wood fences and decks, and the siding of the house, whether it's brick, wood, cedar shake, vinyl, stucco, or even coquina. You'll also want to be sure the windows are completely clean. Here in Northeast Florida, our humid temperatures and frequent rain cause buildup on the window panes, as well as in the cracks and corners, and dreary or cloudy windows will be a big deterrent to potential buyers. Find a great window cleaning company and let a team of professionals make your windows shine!
Step 3: Clean the interior of the house.
A potential buyer will pay close attention to how clean the house is, and will likely look in all tubs and sinks, closets, cupboards, etc. If ever there was a time to clean as if someone will be checking with a white glove, this is the time! Find the best house cleaners or the best maid service in your area and hire a deep cleaning or move-out cleaning that is tailored to your specific needs. A good house cleaning company will have trained technicians to do everything from dusting blades of your ceiling fan, to cleaning the inside of your oven, to scrubbing your shower, and everything in between. A good carpet cleaning company will remove stains and spills from your carpet, leaving it soft and clean for all who come to look at the house. Likewise, a tile and grout cleaning company will make the tiled entry of your home sparkle, inviting in all potential buyers. Selling a house is stressful, but with the help of highly trained professional cleaners, you have nothing to worry about!
Step 4: Use your eye for detail.
Once your home has been thoroughly cleaned inside and out, hone in on a few details. For example, if you are leaving your sofa and overstuffed chair in the living room for staging, hire a good upholstery cleaning company to make the furniture and window treatments fresh and appealing.
Step 5: Do a final walk through.
Walk through your home a final time before the first prospective buyers come, in order to see the house as they will. Better still, ask a friend or neighbor to walk through with you in order to add a new perspective. After all your hard work and the hard work of the professional cleaning companies you have hired, surely your home will be spotless, inviting, and exactly what the buyers are looking for!
Most homeowners have to make several calls and juggle a complex schedule to get the services lined up that they need to sell their houses. If you live in Jacksonville, Florida, though, you are in luck! First Coast Home Pros is the only call you need to make to get your home ready to sell quickly. Our specialized teams of highly trained professionals are efficient, skilled, and anxious to get to work on your home. Whether it's pressure washing, window cleaning, roof and gutter cleaning, tile and grout and carpet cleaning, upholstery cleaning, or deep cleaning from our award-winning maid service, we are truly the best cleaning company Jacksonville FL residents trust and love. Our clients throughout downtown Jacksonville and the surrounding neighborhoods and beaches call on us for all of their cleaning needs, and we'd love to serve you and your home as well!