The weather is beautiful year-round in Jacksonville FL, but the pine needles, oak leaves, and Spanish moss accumulate year-round too, and mildew and algae can show up on areas of your roof seemingly out of nowhere. Use our roof cleaning tips to help keep your roof clean and clear all year!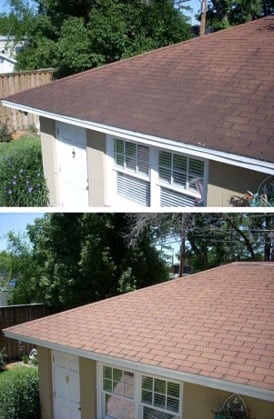 When the time comes to blow, sweep, or wash the debris off your roof, always be safe. Set your ladder up on level ground, use the ladder correctly, and wear nonslip shoes if you foresee needing to climb around on the roof.

Start at the highest point on the roof and work down, blowing the debris, or flushing it with your hose or pressure washer.

If you're washing your roof, you can often effectively flush debris away simply with a garden hose. For persistent algae, mildew, and insect nests, you might choose to rent or buy pressure washing equipment. If so, be sure to use very low pressure. High pressure or power washing can strip the asphalt off your roof shingles and cause more damage than good!

Most highly rated pressure washing companies recommend using a gentle but effective cleaning solution to help remove buildup from your roof. If you use a good roof cleaning solution, you'll be less tempted to crank up the pressure on your pressure washer. If you're worried a cleaning solution could damage your plants or landscaping, give them a good soak before cleaning, and continually douse them during cleaning to ensure the chemicals are rinsed off of them.

Always spray in the direction of the angles and never upward into them. If you force water under the shingles, the water can get into the roof decking and cause significant problems.

As you work on cleaning the roof, take the opportunity to check your gutters as you go. Your gutters should be able to easily flush your cleaning solution and all loosened debris out and away from the house. If you notice your gutters are getting clogged, or that they're filling up with water as you work, you'll likely need to set aside more time for gutter cleaning. Many great roof cleaning companies can also clean gutters, so consider taking care of both issues in one appointment with a good Jacksonville FL gutter and roof cleaning service!

Above all, don't take risks. Roof cleaning can be tricky work. Whether you're just working on ladders or actually get up onto the roof, hard surfaces will be slick with soapy water. Don't try to rush, and don't take risks on the ladder or on your roof. It's just not worth it!
Many homeowners choose to hire good local roof cleaning services to take care of their roof cleaning chores. First Coast Home Pros is the best roof cleaning company Jacksonville FL residents have called on for over a decade. Our technicians are trained to clean your roof (and gutters, if need be!) with precision and efficiency. Your Riverside, San Marco, or Southside home will be looking great after we're done!