Cooler weather is here, but that's no excuse for grimy, streaked windows. Here are 8 steps from a highly rated professional window cleaning company to help you keep your windows looking great all season long!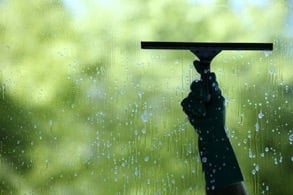 1. Block off the time. It's a busy time of year, but not too busy to keep your home looking great! Find several hours on a nice day and block it off for your window cleaning task.
2. Get the right equipment and cleaning solutions. You'll need handheld squeegees, preferably in varied lengths in order to clean varied sizes of pane. Get several scrub pads or sponges that are very soft and will not damage the window glass in any way. You'll also need several clean, dry towels to keep on hand as you work. Find a gentle but effective window cleaning solution and be sure it's safe to use on the surfaces you'll be cleaning. Keep a stepladder and/or ladder nearby, and if you have a second story or other high windows, you'll need an extension ladder.
3. Get your gear. You'll need clothes that you don't mind getting wet and dirty and non-slip shoes if you'll be climbing ladders. It's also handy to keep a small pail or pack on you, or nearby, to keep your squeegees and gear in.
4. Move all extraneous stuff. Remove screens from the windows, and if you're working inside, tie back draperies and window treatments or remove them altogether. If you can remove the blinds, do so. Move everything away from the window area so that nothing gets damaged either by overspray from cleaning solutions or by being accidentally bumped as you work. If you're working outside, you'll want to clear space around bushes, hoses, and other stuff that may be in the yard and close to the house so that you have ample room to work and set up your ladders if needed.
5. Prepare the cleaning solution. Read the instructions for your cleaning product and be sure you dilute it if needed, or otherwise prep it according to the instruction.
6. Apply the cleaning solution and clean the surface. Apply the cleaning solution adequately to the windowpane. Let it sit for the recommended amount of time, if needed, and scrub the pane gently with the scrub pad. Then use the squeegee to remove the excess cleaning solution and bubbles. Keep a "wet edge" while you work to avoid streaks. NOTE: Avoid using razor blades to remove buildup. This technique requires training and should be left to the professional window cleaners.
7. Dry the area. Keep a clean, dry towel on hand to wipe around each window after you squeegee it, as well as the windowsills and ledge too. Don't leave any moisture behind.
8. Clean and replace all items. Once the windows are cleaned, replace all items that were moved before cleaning, and wipe or clean each item if needed as you replace it. Wipe down all blinds before replacing them, or schedule a blind cleaning appointment with a local window cleaning company.
The last step is to stand back and enjoy the view! Your hard work will pay off as soon as you look out your sparkling, streak-free windows. Or, skip the hassle and call on a great, local window cleaning company! First Coast Home Pros is the best window cleaning company Jacksonville FL homeowners rely on for clean windows, inside and out. Join your neighbors in downtown Jacksonville, Ponte Vedra Beach, Jacksonville Beach, Riverside, and Mandarin and call on First Coast Home Pros for your home's windows!