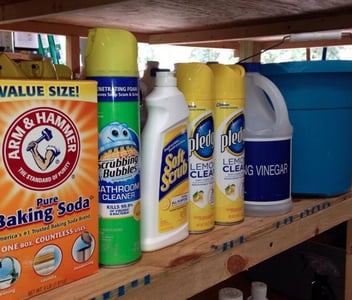 We often get asked about our favorite cleaning products and recommendations. Some of our clients like to spruce up their homes themselves between deep clean appointments, and others are just curious about the wonderful products we use to make their appliances, floors, faucets, and everything else so clean. Below you'll find our "Five First Coast Home Pros Favorites" - the five products we love, trust, and use the most. They might become your favorites, as well!
Five First Coast Home Pros Favorites
Each of these products is highly effective, easy on the budget, and available at any grocery store or drugstore. You might already have several of them stocked in your own home. We've included recommendations and tips, but urge you to do what we do: read the labels and check the manufacturer's websites before using them for the first time on any surface or appliance.
Vinegar - Vinegar is one of the most versatile and effective cleaning products available. It's famously inexpensive, but can safely and thoroughly clean almost any surface in your house. If you can overcome the strong odor, it's worth it for the deep clean you'll get. Add ½ cup of white distilled vinegar to ½ gallon of warm water and mop your no-wax floors. Use equal parts vinegar and warm water to clean the shelves and drawers in the fridge and the inside of the microwave. Soak a sponge in full strength vinegar and wipe down shower doors or bathtub rings to get rid of soap scum. Soak your shower head in vinegar overnight to remove corrosion buildup. The list of vinegar's cleaning uses goes on and on! A basic online search will yield countless additional tips for using vinegar, not only for your home, but also for your yard, food, pet care, and personal hygiene. It's as versatile as it is effective! NOTE: Just be careful on metal and natural stone, as the acid can etch and damage both!

Baking soda - Baking soda is another ingredient that is easy to find, inexpensive, and highly effective at cleaning surfaces of all kinds. The texture of baking soda provides a safe and natural exfoliant that can tackle grime, dried spills, and all types of buildup on kitchen sinks and counters, bathroom surfaces, etc. Sprinkle some baking soda on a damp sponge or rag and go to work! PRO TIP: Baking soda, hydrogen peroxide, and a toothbrush can be a magical grout cleaning and whitening system (if you have the time and patience!).

"Bar Keeper's Friend" - This product is highly effective and safe on more surfaces than you might imagine. It's available in multiple formulas, so you'll have no trouble finding the right type for the surface you want to clean, including cooktops and ranges, counters, sinks, faucets, appliances, etc. Two of the features that make "Bar Keeper's Friend" so effective are its acidity and its scrubbing and polishing compounds, which do have the potential to etch or dull delicate surfaces. For these reasons, we recommend trying a small amount of the formula on an inconspicuous area of the surface before cleaning the entire area in order to make sure no damage will occur. We've used it on acrylic, plastic, and many types of metal and have never had a problem, but it's always better to be safe than sorry.

Pumice stone - Yes, you heard that correctly! The same pumice stone you might use on your feet is the perfect tool to clean the rings from your porcelain toilet bowl. We recommend submerging the pumice in the water first in order to soften it slightly and avoid scratching. When the pumice stone is completely wet, rub it along the ring marks and they will disappear as if you are erasing them.

"The Works" - This is a heavy duty toilet bowl cleaner that we use for tough iron stains. "The Works" is highly effective, and doesn't need to be used daily or even weekly, but for extreme build-up it works amazingly well. If your home uses well water and you are bedeviled by the buildup and discoloration it creates, you'll think this product is magic! Even if you use city water, you can still enjoy the benefits of "The Works." Be careful though, as this product is not meant to be used anywhere else besides your toilet bowl.
The Best Jacksonville FL House Cleaning Company For Your Own Home
These cleaning products are tried and true, and we're certain they'll get your home clean and looking great! Of course, you can always skip the tidying up altogether and call on the best professional house cleaning service to maintain your home's appearance. Our First Coast Home Pros house cleaners specialize dually in deep cleaning and regular maintenance cleaning. We can give your home the most thorough clean it's had, and we can also come weekly, biweekly, or monthly to make sure your home stays tidy and clean. The First Coast Home Pros maid service is the first choice among homeowners in downtown Jacksonville, San Marco, Riverside Avondale, St. Augustine, Ponte Vedra Beach, and throughout the region. Our team members are highly trained, friendly professionals, and we're ready to use all our best cleaning products and techniques to work our magic on your house.