Flu season is here, but do not fear! Our cleaning tips can help prevent flu from invading your home. The most important measure for protecting your home and family from flu is to get the flu vaccine, and everyone knows the importance of covering your mouth when you cough or sneeze and washing your hands frequently and thoroughly with soap and water. It's also very important to kill the germs that lurk around the house.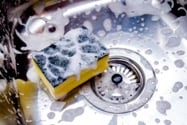 Direct your cleaning efforts on shared spaces. Here are 5 areas of your home to clean thoroughly and often during cold and flu season:
· Faucets – Faucet handles in the kitchen and bathrooms should be thoroughly and frequently cleaned and sanitized.
· Doorknobs & Handles– Use disinfectant wipes on doorknobs and handles, including drawer pulls, cabinet knobs, the handles on the fridge and dishwasher, etc. We recommend walking through the house daily with your disinfectant wipes or cloths on hand and cleaning all knobs, dials, and handles you see.
· Light Switches– It's easy to ignore light switches because it's second nature to walk in or out of a room and flip the switch automatically. Pay attention to wipe down these light switches several times a week at a minimum during cold and flu season.
· Electronics– Remotes, computer keyboard and mouse, touchscreens, and keypads throughout the house need to be disinfected frequently.
· Hand Towels & Linens– All hand towels, shared blankets or throws, afghans, throw pillows, and other linens or fabrics that are used by members of the household should be laundered at least weekly during cold and flu season. If someone in your home is ill, clean the bedding and linens daily until he or she is well again.
To disinfect these areas, you can use disinfectant wipes and thoroughly wipe all over and around the item. Depending on the surface, you can also spray disinfectant onto the surface or onto a clean cloth, and then thoroughly wipe down the surface. Always let the disinfectant remain on the surface for the recommended period of time (according to the label) so that it can do its job and kill those germs. Then wipe away any remaining residue.
There are many steps to take to keep cold and flu germs away from your home and family all season, but your efforts will be worth it.Many Avondale, Riverside, San Marco, Southside, and Ponte Vedra Beach families choose to call on a great house cleaning company to help keep their homes sanitized and sparkling clean all season and all year long.First Coast Home Pros is the best cleaning company Jacksonville FL homeowners trust.Our teams have the expertise and experience to clean your house well, and the passion and excitement to make it a pleasure!Give us a call and you'll see why we're the best Jacksonville Fl maid service and the best choice for your home!