Clean and gleaming tile and grout makes your kitchen and bathroom look great. However, with use comes grime and buildup, and before long those tiled areas will need attention. Do you clean them yourself, or do you hire highly rated tile cleaning professionals for the job?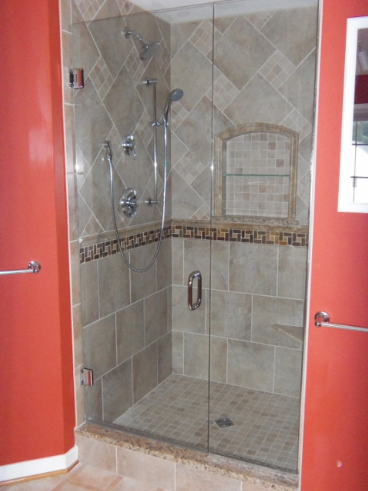 Cleaning your tile and grout is tough work. Most homeowners find that scrubbing tile and grout on hands and knees takes more elbow grease than they're willing to give for a weekend cleaning project. Not to mention, the tiled areas in a home - typically kitchens, bathrooms, laundry rooms, and entryways - are usually large areas, and take a long time to thoroughly clean. To get your tile and grout really, truly clean, you'll likely spend a full weekend on it. Beyond that, household cleaners and chemicals simply don't get the job done as well as the professional grade cleaning solutions available to professional tile and grout cleaning companies.
Here are some of the benefits of hiring a professional tile and grout cleaning company to clean the tiled areas in your home:
Specialized Techniques

- Tile may be made from ceramic, marble, granite, or any number of other materials, each with its own cleaning requirements. Many homeowners unknowingly apply cleaning solutions that are too harsh or that are formulated incorrectly for the type of tile they have. As a result, the tile can become etched or damaged, or the surface may not become clean, or could even become more soiled than before! If you hire a good tile cleaning service, you can trust that the technicians know exactly what type of cleaning solution to use and how to safely and properly apply it in a way that gets your tile truly clean without damaging it in any way.

Cleaning Solutions & Equipment

- The cleaning chemicals that you buy at the grocery store or hardware store simply don't get tile as clean as those that are professionally formulated to combat mold, mildew, and other stains that befall tile and grout. A great tile and grout cleaner will have access to the best equipment on the market, but also the best cleaning solutions that will leave your tile sanitized, sparkling, and ready to be enjoyed.

Experience

- Tile cleaning requires scrubbing, specialized tools, and a true understanding of spots and stains, how they affect tile, and how they can be removed. This information would take a homeowner time to research and learn, whereas a great tile and grout cleaning technician will have the experience and training to clean and seal your kitchen and bathroom with care and expertise.

Training

- To clean different types of stone, different sizes of tile, older grout versus recently installed grout, and even vertical tiles versus horizontal tiled areas, it takes training in order for the job to go smoothly and for the surface to truly become clean. Professional tile and grout cleaners know how to work with any type of stain, type of stone, and type of tiled area.

Protection - Tile that is clean and sealed is protected, lasts longer, and adds value to your home. The best way to protect your investment is with regular cleaning and sealing from professionally trained tile and grout cleaning technicians.
Time

- To get a tiled area truly clean, it not only takes energy and knowledge, but also time. Save your evenings and weekends for your family and friends, and don't spend them cleaning your bathroom.

Your life is easier and your home is cleaner when you hire a great professional tile & grout cleaning company to take care of your home. For homeowners in Jacksonville, Riverside, Ponte Vedra Beach, and St. Augustine, First Coast Home Pros is the best cleaning company and the one to trust with your home. We have dedicated teams of highly trained specialists, ready to go to work on your toughest cleaning problems. Your tile and grout will sparkle when we're finished. Call today and we'll get started with your free in-home estimate.