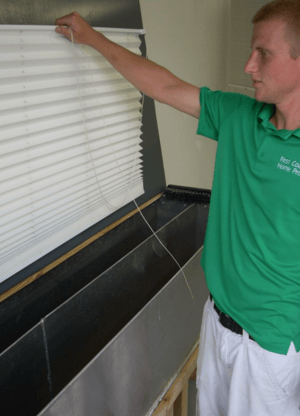 It can be easy to forget about certain cleaning tasks around the house, including the blinds on your windows. By the time you notice dust and grime building up on your blinds and shades, it's past time to clean them. What you can't see as easily are the allergens, dander, bacteria, and more that are also building up! Dingy, dusty blinds need to be thoroughly cleaned, but that probably sounds like an especially tedious DIY cleaning project. That's where we come in!
First Coast Home Pros is the trusted window cleaning company for homes throughout Jacksonville, but did you know we also specialize in cleaning blinds and shades? Depending on the type of blinds you have, we'll devise the perfect cleaning plan for them. In most cases, we'll gently take down the blinds from the windows and then transport them back to our shop to be thoroughly cleaned, rinsed, and dried in our state-of-the-art blind cleaning system. We'll then come back and reinstall the blinds onto your windows.
Don't settle for dusty, grimy blinds. And don't waste your own time wiping down each slat with an old cloth. You have other ways to spend your time, plus you'll never get them as clean as we can!
Great professional cleaning companies can clean your home top to bottom, inside and out, even including blinds. At First Coast Home Pros, we train our technicians to clean aluminum mini blinds, micro-mini blinds, vertical blinds, wooden blinds –and also faux wooden blinds, pleated shades, and duette shades. Homeowners throughout Jacksonville, Fleming Island, Ponte Vedra Beach, and throughout Northeast Florida call on First Coast Home Pros for all their house cleaning needs, no matter how detailed. Call us today and let us get to work on your home!