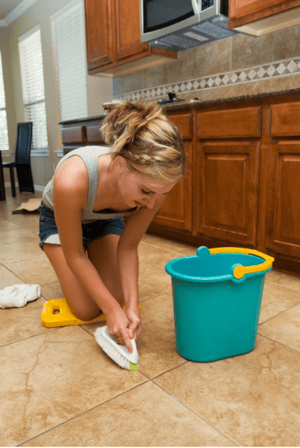 It might sound trite but cleaning your house can boost your mood! Of course, a clean house won't mean life's troubles have all been scrubbed away, but you'll be amazed at how great you feel when your house is clean. Use our tips and tidy up… you'll love how you feel!
Start Small – You might feel like you just don't have the time to clean, and it's true – you may not have the hours in the day or the energy to deep clean your house any time soon, and that's ok! Start small and give just ten minutes to tidying up the family room or kitchen and you'll be amazed at the results. A few minutes of tidying up can boost your mood almost immediately!

Clean the "Busiest" Rooms First – Prioritize your cleaning so that the rooms that get the most use are cleaned first. That way, if you run out of time or energy, at least this common space is clean and ready for you to relax in.

Get Everyone Involved – Make sure every member of the family has a job or two assigned to them. Even toddlers can pick up their toys and put them in a basket! When everyone joins in the work, then everyone can feel great and enjoy a clean house together.

Take It Easy On Yourself – Don't be too hard on yourself. Families are busier than ever and it can seem impossible to stay on top of everything, much less with time to spare for cleaning house! Sometimes the messiest house is the happiest house, so take a deep breath.

Hire Professional House Cleaners – Daily life brings its share of stress and anxiety, and the last thing you want to do after a long day is come home to dirty floors, a grimy tub, and sticky surfaces… Hire the best professional house cleaners in your area and let the pros take care of it! Great professional house cleaners come equipped with the best cleaning solutions and the skills to clean your house just the way you want. Whether the house needs just a little extra attention or a full deep cleaning in every room, a highly rated house cleaning service can make your floors gleam and your countertops shine.
First Coast Home Pros is the highly rated Jacksonville FL cleaning company trusted by homeowners throughout northeast Florida. We are the cleaning experts, and our customers in Riverside Avondale, Ponte Vedra Beach, Atlantic Beach, and throughout Jacksonville rely on our highly rated maid service to clean their homes top to bottom. Some of our customers just want an occasional deep clean, but most want us to return every week or two to stay on top of their cleaning needs. We believe a clean home lets you feel relaxed and more in control, and therefore happier. Call us for the clean house you deserve!