Winter is officially here, and for pressure washing companies in many parts of the country, that means it's time to put the equipment in storage and wait for spring weather to arrive. Freezing temperatures make it dangerous to pressure wash, and ice can severely damage pressure washing tools and ruin cleaning solutions. Here in Jacksonville, however, our winters are cool and sunny, and the temperature rarely dips below freezing. We can pressure wash all year long!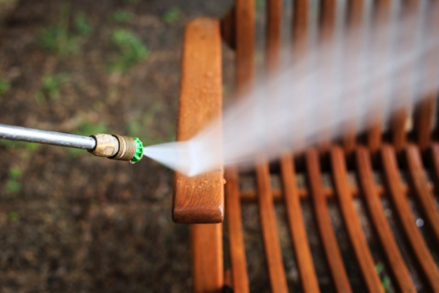 Don't Neglect Your Home's Appearance
During the cooler months, some homeowners choose to take a hiatus from home and lawn care. This can be dangerous, since mildew thrives in cool, damp weather. Instead, dress in warm clothing, don your waterproof gear, and take advantage of the "off-season" to pressure wash the hard surfaces around your house and property. Wash away the mold and mildew from the patio pavers, remove the grime and buildup from the forgotten corners of your home's exterior, and keep your pool and deck area looking great, even if they not in use during our brief Florida winter. If pressure washing in the cooler temperatures still doesn't sound too fun, that's where the professional pressure washing services come in! Stay warm and dry indoors and hire a great pressure washing company, with technicians trained to work in all seasons, on all types of projects, who will use the perfect cleaning solutions and techniques to make your home clean and looking great.
At First Coast Home Pros, our teams are able to perform their work beautifully and efficiently, no matter what the season, and we provide our award-winning client service and high quality work, even in the winter months. We use a combination of the safest low pressure cleaning techniques along with mild but effective cleaning chemicals to give your home the most thorough pressure cleaning job possible. We can pressure wash any area of your property that is exposed to the elements, including:
brick, concrete, and paver patios

driveways, sidewalks, and walkways

wood fences, decks, and docks

house exterior siding of all types, including vinyl, wood, cedar shake, stucco, and even coquina

pool decks and screened enclosures, and more!
Your home, patio, walkways, and driveway deserve to be kept clean and looking great all year long, and with the help of a great pressure washer, it's possible.
Pressure Washing Jacksonville FL All Year Round
At First Coast Home Pros, pressure washing is our passion and we're happy to get to do it all year long here in Northeast Florida. Pressure washing companies in other parts of the country have to hang up their equipment when the cold weather comes, but we offer year-round service for our clients in Ortega, Riverside, Southside, Ponte Vedra Beach, Atlantic Beach, and throughout Jacksonville. Let our team of highly trained professional pressure washers keep your home's exterior looking beautiful all winter long!