With the holidays around the corner, the to-do lists and chores might already be getting overwhelming. Our checklist and tips will help you get your home ready for guests, ready for parties, and ready for holiday fun!
Entryway - First impressions are important, and that holds true for the guests entering your home. Spend extra time tidying up the front entrance - both inside and outside your home - so that guests feel welcome.
Kitchen

- Guests and partygoers tend to congregate in the kitchen, where the food and alcohol typically is. As such, the kitchen deserves a deep cleaning! Wipe down all surfaces with a disinfectant, scrub the sinks, and give the floor a good sweep and mop.

Oven & Fridge

- Your appliances will see a lot of action over the holidays, so why not start them off with a deep cleaning? Toss all old food from the fridge and wash the shelves and bins, and scrub the surface of the stove and inside the oven.

Doorknobs

- Don't send any guests home with the germs your kid brought home from school. Go through the house wiping down all doorknobs and drawer pulls with an antibacterial wipe or your disinfectant of choice.

Bathrooms

- Don't skimp on cleaning the loo. Before any party or event, give all bathrooms a thorough cleaning, and make sure extra toilet paper, hand towels, and hand soap are stocked.

Table Settings

- Wash the good dinnerware or fine china, and clean those serving pieces that haven't been used in months. If you're using cloth napkins and tablecloths, launder and press them. Choose candlesticks, flower arrangements, or other centerpieces that fit the season but also go well with your home furnishings and decor.

Bedding

- Wash all bedding, particularly that which will be used by overnight guests. Make sure all linens are clean, pressed (if needed), and free from pet hair, etc.

Odors

- When you have an event planned, it will likely involve some cooking or baking that gives the home a nice smell. If nothing is baking, light a holiday-scented candle. Either of these things will mask any potential odor caused by pets, etc., that may go unnoticed by you.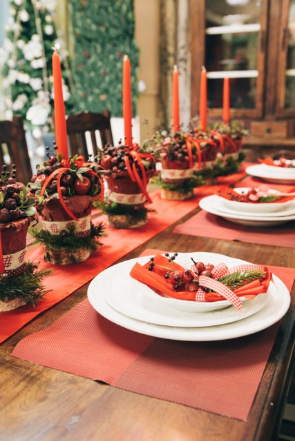 General Tips:
Divide the chores among family members.

For example, have kids straighten their rooms, since children who come to the holiday events will likely want to play in those rooms.

Go out and come in again.

After you've scrubbed, polished, and organized, one of the last things you can do before the first guest arrives is to walk outside, and then come in through the front door and see the space as your guests will.

Don't save it all for the last minute.

There's a lot to do around the holidays, and this checklist is likely only one of several that you have. Make a plan early on and stick to it.

Hire the professionals.

Of course, the best thing you can do to get ready for the holidays is to hire help! If the pre-holiday task lists have you feeling overwhelmed, find a highly rated cleaning company and let the professionals clean your house top to bottom, inside out.
First Coast Home Pros is the best cleaning company Jacksonville FL homeowners rely on for the holidays and for every day! We have specialized teams of trained professionals ready to tackle any cleaning project on your list. Our pressure washing team will clean your home's exterior, driveway, and walkway, and our window cleaners will make your windows gleam. Our house cleaners will deep clean your home from the blades on your ceiling fan to the baseboards and everything in between. We offer carpet cleaning, tile and grout cleaning, dryer vent cleaning, and more. We even have a team trained to clean the chandelier in your foyer! Join our countless clients throughout Jacksonville, Fleming Island, St. Augustine, Atlantic Beach, and Ponte Vedra Beach and let us help get your home ready for the holidays.