Window cleaning is a chore we all know we need to do routinely, but many homeowners overlook their screens. Debris, pollen, grime, insects, and even salt and sand get trapped in your screens and not only cloud your view, but also damage the screening, if left unchecked. Keep the screens in your Ponte Vedra, Mandarin, Riverside Avondale, or Jacksonville home in good shape with our 7 steps for easy cleaning!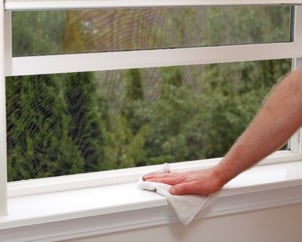 Gather your supplies.

You'll need a bucket, rubber gloves, mild dish soap, clean and lint-free towels, a garden hose, a tarp, and a soft-bristled brush.
Spread the tarp on the ground. Use your garden hose to fill the bucket with water and add a small amount of dish soap to make your cleaning solution.
Remove each screen from its window and lay it on the tarp.

Use the soft-bristled brush to rub away the dust and cobwebs from the screens. Make quick, short passes over all areas of the screen in order to knock off and brush away all leaves, buildup, and other debris.
Dip your lint-free towel into your cleaning solution and wash the screens.

Scrub the screens by making small circles, beginning along the top of the screen and working your way down. Dip the towel into the cleaning solution regularly to get fresh, soapy water onto the towel.

Keep the hose on hand and rinse any clumps of debris off of the towel when needed.
After cleaning with your soapy mixture, rinse each screen with the garden hose. Set the nozzle of the hose on the lowest setting to avoid denting or damaging the screen.
Now that each screen is clean, take the time to inspect each one. Look for any spot you may have missed during cleaning, and spot-clean those areas.
Give each screen a quick wipe with a clean towel and return it to its window. Use a dry towel to wipe down the insides of the window sills in case any moisture was left on the screens after cleaning.
Once you've cleaned your screens, you'll enjoy the view more, your house will look tidier, and your screens will stay in good shape for years to come. If the task seems daunting or time consuming, however, you can call on a good professional window washing company and let the professionals do the work! First Coast Home Pros is the best window cleaning company Jacksonville FL homeowners love to call on. Let us give your windows and screens the cleaning and care they deserve!