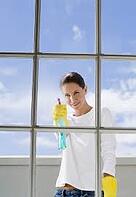 When it comes to house cleaning, Jacksonville, FL residents have very high standards! Therefore, it may surprise you to learn that many of us – even those most comfortable with household chores – are probably doing some of our tasks incorrectly, or out of order. Here are some cleaning habits that you need to change.
All-Natural and Organic
We've all heard that it's better for the environment if we use organic cleaners in place of chemicals. However, this doesn't mean that just because something is all-natural that it's ideal for cleaning, or for cleaning a specific item. Case in point, vinegar and lemon juice are both organic but they are also very acidic. To avoid ruining the finish on certain types of stone, keep lemon juice and vinegar away from the following: marble, travertine, limestone and onyx. Your cleaning products (natural or man-made) should be appropriately paired with your project.
Well-Polished
If you're going to dust when house cleaning, Jacksonville, FL families should remember not to use too much furniture polish. Unless you own antique furniture, you shouldn't be using furniture wax or polish at all. Modern furniture comes with a protective topcoat, so it doesn't need to be waxed or oiled. Every once in a while just use a slightly damp cloth on your modern pieces, and they should be good as new. Your antique pieces don't need a great deal of waxing or polishing, either; once or twice per year should be enough. Even then, always use the same product to avoid a gummy build up from overlapping chemical residues.
Blot, Don't Scrub
When a beverage spills into the carpet what do you do? If you immediately start scrubbing at the stain, you need to re-think your process. You should first blot up the excess moisture with white towels or paper towels. Once it's mostly "dry," treat with carpet stain remover. Remember, rubbing at the stain will not only force the stain farther into your carpet, it will also distort the carpet fibers, causing the stained area to be more noticeable, even after the stain is gone.
Window of Opportunity
It's very understandable why a person would decide to spend a beautiful, sunny day washing windows. Streaks and dirt on windows just jump out at you on a clear, sunny day. Plus, nice weather makes outdoor chores more agreeable.
However, don't give in to the urge. Wait to wash the windows until it is cloudy. Otherwise, in the sunshine, the heat on the glass will cause the cleaning solution to dry quickly and create streaks. Even outdoor temperatures of 70 degrees or more on an overcast day will have the same effect.
Overkill
When house cleaning, Jacksonville, FL homeowners have found it tempting to try to clean up a mess or remove a stain by using an excess of cleaning solution or product. The truth is, it doesn't actually work any better, and sometimes it just makes the situation more difficult. (Picture what happens on a sitcom when the kids put too much detergent in the washing machine!)
Although it seems counter-intuitive, using extra amounts of cleaning product is not better. If the directions on the package tell you to use an amount the size of a golf ball, then that is the amount the manufacturer really wants you to use. Think of it this way, the company that makes the product would be happy to sell you a lot more, so obviously if they thought using more would give you better results, then they would suggest it!
Top to Bottom
For many of us, it seems natural to start cleaning a room by doing the floors. Once that big expanse of carpet has been vacuumed the room seems many times cleaner than minutes before, and gives you a mental boost to continue with your work. Unfortunately, when the floors are your starting point for cleaning, everything above that point (which is everything!) will be dropping dust and debris down onto your nice clean floor. Therefore, if at all possible, you should start cleaning at the top of the room, working your way down. For example, cleaning the chandelier should be first, then dusting the dining room furniture, followed by mopping or vacuuming the floor.
If you think you have been incorrectly house cleaning Jacksonville FL residents can contact us at First Coast Home Pros. We offer a wide variety of specialized house cleaning, home improvement, maintenance, and restoration services.