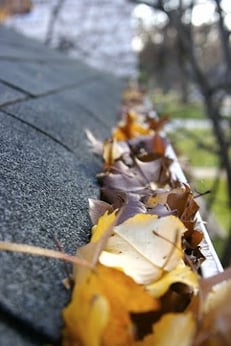 Autumn is often synonymous with falling leaves, and though the changing color of the leaves is beautiful, they can begin to build up in the corners of your roof and along your gutters. Autumn is in full swing in Northeast Florida, and even if you are done raking the leaves in your yard, you don't want to overlook the leaves that have collected in the gutters.
The Importance Of Clear Gutters
Gutters may seem like a nearly insignificant element of your home, and many people don't think about them until something goes wrong. In reality, however, gutters are an integral part of your home's makeup, redirecting rainwater off your roof, through downspouts, and away from your home's foundation. During the process, leaves and other debri also collect in the stream, causing a blockage and clogging the gutter's flow.
Gutter maintenance is necessary to keep the water flowing, and to avoid long-term problems down the road. When gutters become blocked, the overflowing water can spill out over the edges of the roof and down the siding of your house, enabling mold and mildew to grow. If overflowing water pools on the roof, it can soak under the shingles and cause them to rot, and even leak into your home. Overflowing water can also pool or puddle in your yard and erode grass and landscaping. Perhaps worse, when gutters overflow, the water can accumulate around your home's foundation, causing it to crack and causing the basement to flood.
Cleaning Your Own Gutters
Much of the equipment and supplies you would need to clean your own gutters can be purchased at your local hardware store, and it is possible to clean your gutters yourself. However, though gutter cleaning is necessary maintenance, it may not be worth the risk to make it a DIY project. The skills needed for a thorough gutter cleaning make it at best a taxing chore, and at worst a danger to your safety. Gutter maintenance requires tall ladders and a knowledge of ladder safety. The time required to properly clean your gutters along with the risks involved make gutter cleaning a task that is often best left to the professionals. Save yourself time and rid yourself of worry by calling a gutter cleaning company to maintain your gutter's flow.
Jacksonville's Best Gutter Cleaning Company
First Coast Home Pros is the expert cleaning company in Northeast Florida, with a specialty in gutter cleaning. Homeowners along Ponte Vedra Beach and St. Augustine, and throughout Ortega, Mandarin, and downtown Jacksonville rely on us for their regular gutter maintenance. Our technicians are highly trained, with years of experience cleaning gutters safely from atop high ladders. When all leaves and debris have been collected, part of our process includes flushing out all remaining buildup with a high-velocity air flush. We guarantee clear gutters and downspouts, and will even dispose of all leaves and debris so you don't have to have it around your house and yard! We offer one-time gutter cleaning for your clogged gutters, and we also offer regular cleaning, which can provide you with worry-free maintenance throughout the year. Part of our expertise is a thorough knowledge of Leaf Relief® Gutter Protection, the industry-leading gutter guard. There are many gutter cleaning companies in Jacksonville, but our technicians are the best in the business, and our work is guaranteed. Call to set up your free in-home estimate, and let us get started on your home!