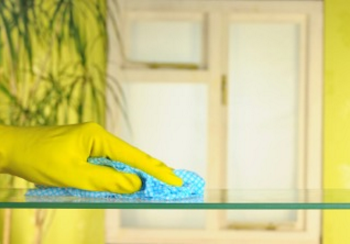 After a long, dreary winter, nothing feels better than a thorough Spring Cleaning. Throw open the windows and rid your home of stale air, shake out the rugs that have collected dust and dander for months, and reclaim your home. Deep Spring Cleaning can be hard work, but when you sit back and enjoy a spotless and fresh, clean home, it will all be worth it!
Use our tips to make your Spring Cleaning a Deep Cleaning, and get ready to enjoy the cleanest version of your house yet!
Ceiling fixtures

- When you begin your Deep Spring Cleaning, aim high: the ceiling! Break out the ladder and work your way down and out, banishing all dust in your path. An astounding amount of dust can settle on ceiling fans, light fixtures, and vents, blocking light and air flow, and circulating dust and debris. Wipe down all fan blades and light fixtures, and detach vents and give them a quick wash.

Tops of doors and windows

- Just because you can't see certain surfaces doesn't mean they don't need to be cleaned. Wipe down the tops of doors, window casings, picture frames, bookcases, etc. to rid them of dust.

Door knobs and drawer pulls

- Go through each room and wipe down the door knobs and drawer pulls and handles with a rag and your favorite cleaning solution or a disinfectant wipe. Don't forget the front door! A mild dish detergent mixed with water will shine up your front door pull and remove buildup from the elements.

Shelves and their contents

- Thoroughly dust each shelf. Remove the books, knick knacks, and houseplants, and individually wipe down each item, in addition to the shelf it sits on. Take the opportunity to declutter as you go, tossing or donating items you no longer want.

Baseboards

- Use a damp cloth to wipe down all baseboards, and even the walls themselves, and rid them of scuff marks and spills. It might feel funny to wash the walls, but they need it.

Kids toys

- Use this cleaning frenzy to sanitize the toys your children have around the house. Most toys will benefit from a dip in warm, soapy water, and some can even go through the dishwasher or washing machine - just be sure to check the manufacturer's labels. As a bonus, kids often like to help with this task!

Window treatments

- Take down all curtains and window treatments and clean them according to the manufacturer's guidelines. This could mean laundering some, and taking others to get cleaned by professional upholstery cleaners. Some homeowners like to take the opportunity to replace heavier window treatments with lighter ones for the upcoming season.

Upholstered furniture

- This season, do more than just fluff the cushions. Take them outside, give them a light beating, and address any stains you find, and vacuum under the cushions using your vacuum attachments.

Pillows and bedding

- Most pillows and bedding can be machine-washed. Check the labels, and clean all pillows, comforters, linens, and other bedding according to the manufacturer's guidelines in order to rid them of bacteria and freshen them up.

Technology

- Wipe down the TV, computer, and other electronics with a tech-safe cloth. Don't forget to also clean the cords and wires that inevitably go along with all electronics!

Window screens

- As the beautiful, warm weather arrives, you'll be opening the windows more and more. To prepare, remove the window screens and wash them in warm soapy water, scrubbing each with a soft bristled brush and rinsing thoroughly.

Trash bins

- After you're finished with most cleaning tasks, clean the trash can itself. Sanitize the inside of the can, wipe down the outside, and if it's a sunny day, set the trash can outside for a short time and let the sun kill any leftover germs.

Filters

- Replace all air filters and furnace filters around your home. You've rid your home of dust, so why not keep it dust-free even longer?

Donate

- All the clothes, books, and other items that you've set aside during your cleaning and decluttering can be boxed up and donated to a good cause.
Feeling overwhelmed? Deep Spring Cleaning takes time and effort, but it is well worth it. However, if you'd rather not spend these first nice Spring days cleaning, you can find a good house cleaning service and enjoy the beautiful weather while the professionals do the cleaning!
First Coast Home Pros is home to the award-winning house cleaning team, and the best maid service Jacksonville FL residents love and rely on. Our clients throughout downtown Jacksonville, Riverside Avondale, Ortega, Atlantic Beach, and Ponte Vedra Beach call on us when it's time for Spring Cleaning. We love nothing more than chasing away the winter doldrums with a heavy duty dose of deep cleaning. It's tough work scrubbing baseboards on your hands and knees, or wiping those fan blades from atop a ladder, but we love it! Let us give your home a thorough top-to-bottom clean so you can enjoy the beautiful weather and welcome Spring!