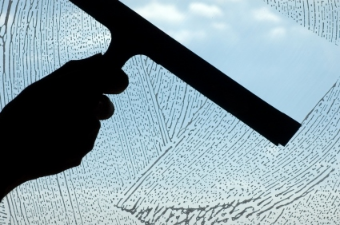 Here in Northeast Florida, rain is a part of all four of our seasons. We've learned to live with the rain and know how to plan for it and plan around it. After a good rainfall, you may notice that your windows have water spots and streaks running down them. Does rain make your windows dirty?
Rain is akin to distilled water, so the short answer to this question is no; rainwater does not make your windows look dirty. Here are the real culprits:
Screens: We need screens to keep bugs and debris out of our homes, and to help protect our window panes. Unfortunately, the dirt, pollen, and bits of debris that get filtered out by the screens can cling to them. Then, when rain starts to fall, raindrops grab the dirt and pollen as they pass through the screens and splash against your window panes. The result, as you can imagine, are dirtied windows. How can you prevent this? When you clean your windows, make sure the screens get cleaned along with the windows. The screens should be taken out carefully and cleaned with gentle cleaning solution and very low water pressure, or even just wiped down with a towel. If this part of the job sounds tedious, call on a team of highly rated window cleaners and turn the job over to them!
Groundwater:

Our Florida groundwater is full of minerals and particulates, such as sand. If you run your sprinkler near your house, groundwater can make its way through your sprinkler system and onto your windows, depositing these minerals as it runs down the panes, causing windows to look dirty.

Environment:

Depending on where you live, environmental factors will contribute to the look of your windows after a rain. For example, if you live in downtown Jacksonville or an industrial area, air pollution can cause streaks to be left on your windows after it rains. And not all environmental factors are bad; if you live along the beaches on Atlantic Beach, Ponte Vedra Beach, or Sawgrass, the salt and sand can kick up during a rainstorm and find their way onto your windows.

Dirty Window Panes:

If your windows themselves are dirty and in need of professional cleaning, then rain will make them look dirty. Rainwater will loosen any dust or dirt that was already on the window and make them look even dirtier. Rather than blame the rain, take this as a message that your windows need to be cleaned!
Don't blame the rain for dirty windows. Instead, find the best window cleaning company in your area and let the window cleaning pros to keep your windows and screens clean and looking great. First Coast Home Pros is the best window cleaning company Jacksonville FL homeowners love and trust. Homeowners know they can depend on our teams of highly trained specialists to keep their windows sparkling clean, from the sash to the screen and everything in between! When it comes to providing great window cleaning service, we really are the best in the business. Call today for an appointment for your own home!