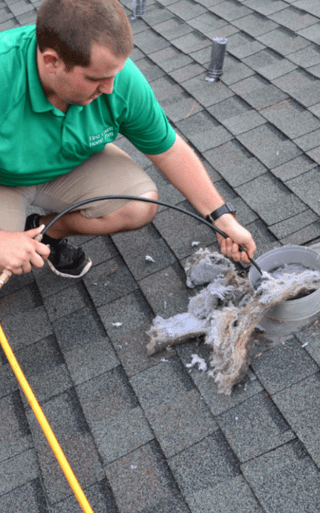 The dryer vent in an average, single-family home should be cleaned about once per year. This average can fluctuate, however, based on certain variables, such as:
Family size

- If you have a large family, you likely run a lot of loads of wash to keep up with the need, and would need to have your dryer vent cleaned more frequently.

Young children

- Believe it or not, the ages of your children can affect the frequency with which you need to clean your dryer vent. If you have young children in the house, you'll need to buy clothes more often to keep up with your quickly-growing kids, and new clothes produce more lint than clothes that have been laundered innumerable times.

Pets

- Pets shed and their fur and hair makes it onto our clothes, and in turn, into the lint trap and dryer vent, causing it to clog earlier than it might for a pet-free home.

Type of laundry

- If you launder a lot of towels, blankets, fleece clothing, and other such items, your dryer vent will fill up much faster than if you primarily launder more "standard" clothing and material.
The best thing you can do for your dryer vent is to watch for warning signs that your dryer vent needs to be cleaned. These warnings signs can include:
Slow dry times

- If it takes a long time for your clothes to dry, this is a sure sign of a clogged vent. Clogged vents trap moist air inside the dryer, causing you to need to run the dry cycle multiple times, which is inefficient and costly.

Warm air in the laundry room

- If the temperature in the laundry room rises when you run the dryer, or if the dryer is hot to the touch after use, these are signs that a clogged vent might be preventing the dryer from exhausting properly. This wastes energy and also causes your machine to wear out faster than it would if the vent were clear.

Higher electric bills

- If you notice an increase in the electric bill, this can indicate that the dryer is working too hard to dry the clothes, most likely due to a clogged dryer vent.

It's been over a year since the vent was cleaned

- Stay on the safe side and schedule a dryer vent appointment if it has been a year or more since the last cleaning. Dryer vent cleaning is an inexpensive service that can truly be lifesaving. (Remember that a clogged dryer vent is a fire hazard!) Instead of waiting for one of the warning signs to appear, be proactive, call the professionals, and rest assured that your dryer is not costing you any excess money or risk.
Whether your dryer vent is clogged, or whether you just want to be on the safe side and have a routine cleaning, be sure to find a highly rated dryer vent cleaning service that will do a thorough job. The best dryer vent cleaners will clean your vent twice -- once from the inside of the house and once from the outside of the house, to make sure all lint and debris is cleared all the way out of the system.
The best dryer vent cleaning service Jacksonville FL homeowners choose is First Coast Home Pros. Our clients throughout Riverside, Fleming Island, Ponte Vedra, and all around Jacksonville love our thorough work, and call on us for clogged dryer vents as well as routine cleaning. Our technicians use the best equipment in the field, ensuring your system will be clear and running as efficiently as possible. Call on the dryer vent cleaning pros for your dryer… you'll love the results!