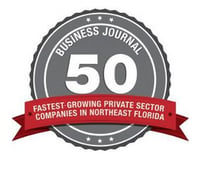 First Coast Home Pros has been recognized as one of the 50 fastest-growing private companies in Northeast Florida for the third year in a row!
What Is The Jacksonville Business Journal's Fast 50?
Each year, the Jacksonville Business Journal together with Ennis, Pellum & Associates CPA agency identify and vet top-performing private sector companies in Northeast Florida. Based on verified financial performance data, these companies are then ranked according to revenue growth.
To be considered for this prestigious list, a company must meet the following criteria:
Must be privately held, locally owned, and for-profit

Must be headquartered in Baker, Clay, Duval, Flagler, Nassau, Putnam, or St. Johns counties

Must have been in business since at least 2011

Must have had annual revenue of at least 1 million dollars in 2014

Must have overall revenue growth from 2012-2014, and a revenue gain from 2013-2014
Final rankings are based on the company's percentage of overall growth over a 3-year period, and First Coast Home Pros ranked 24th, with revenue growth of 44.29%.

With such stringent requirements, you can be sure these Jacksonville companies are the best of the best! The Jacksonville Business Journal reported that this year's nominees increased in both size and scope from last year's ranking, thus increasing the competition. Read more about the vibrant companies making up the Jacksonville Business Journal's Fast 50, here: http://www.bizjournals.com/jacksonville/blog/morning-edition/2015/06/these-are-the-fastest-growing-private-companies-in.html

First Coast Home Pros was created in 2008 by Joshua Kennedy. When he began the company, Josh was a one-man show, providing window washing to clients throughout Jacksonville. The company grew rapidly from the start, incorporating more and more of the services needed for the home, including pressure washing, roof and gutter cleaning, tile and grout cleaning, and carpet cleaning, among others. The company has expanded even further to incorporate additional award-winning divisions, including Jax Furniture Refinishing & Upholstering, RugPro Oriental Rug Cleaning, and The Painting Craftsmen.

In the words of the Jacksonville Business Journal, "To distinguish itself from the numerous other cleaning service companies in the area, First Coast Home Pros used a simple, but effective, approach to succeed — listening to its customers." As the company grew, clients began asking about additional services, and often, a trained and skilled First Coast Home Pros team was dedicated to that service in no time! Joshua Kennedy, who remains the company's president and owner, says, "We always listen to what our customers want. If it's in the realm of our expertise, we'll do it."

The Best Service Company You've Ever Invited To Your Home

First Coast Home Pros is a rapidly-growing company, but our commitment to quality has stayed the same. We pride ourselves in our dual focus on high quality customer service and high quality work. We train our technicians, office staff, and administrators alike to provide the best possible client care along with the best possible work ethic and it shows - we just keep growing! Our expertise ranges from dryer vent cleaning to carpet cleaning to a maid service that will leave your home cleaner than you knew it could be. Our sister companies specialize in everything from restoring your favorite antique, to thoroughly washing your heirloom Oriental rug, to giving the exterior of your home a high quality paint job that will last for years. Whatever your home's need, our award-winning company has the solution!