The novel coronavirus Covid-19 has most of us cleaning our homes more frequently and more thoroughly than ever before. On top of the current worries you may be feeling during this pandemic, the act of cleaning in itself can make your anxiety spike! You might wonder if you're using the product correctly, or if it's safe to use around your home, or whether it truly does combat the dreaded virus… More and more Jacksonville homeowners are calling on First Coast Home Pros to disinfect their homes and help keep the virus out. Here's why First Coast Home Pros is a great cleaning company to call on for cleaning and sanitizing your home: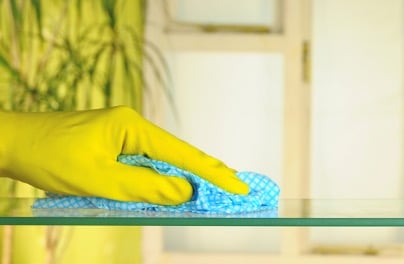 Effective Products – In addition to many standard household cleaners that are EPA registered to fight coronavirus, we've acquired several extremely effective and high quality cleaning solutions formulated specifically to disinfect the surfaces around the home and further protect against COVID-19.

We've done the research and found the best products on the market.

Now our house cleaning teams are bringing this specialized service to homes throughout Atlantic Beach, Ponte Vedra Beach, Southside, Mandarin, Riverside, and all around Jacksonville.

Results – You'll get the results you want.

Our house cleaning technicians are trained to know exactly how to apply the disinfectant, how long it needs to stay on the surface to work, and what to do to make sure your home is as safe and clean as can be.

From disinfecting the smaller details of your home to fogging an entire area, our highly trained house cleaners will take care of everything you need.
Quality – Customers trust our reputation and know they'll receive high quality professional work, and that their home will be cleaned exactly as they want it.

Relief – Coronavirus – and cleaning for coronavirus – is stressful.

Calling on the best local cleaning company to completely clean and sanitize your home brings relief.
There's enough on your plate right now! Call on the best Jacksonville FL house cleaning service to help keep your home clean, sanitized, and safe during this time. We're passionate about the work we do, and we're passionate about giving our customers the best possible care and service, every day and in all circumstances.