The condensation that appears on the windows inside your home during cold weather is not just unpleasant to look at… it's also an indicator that heat is escaping! If there is condensation on your windows, you need to investigate the cause and fix it. Here's why:
If heat is escaping from your home, that generally means money is escaping too. Heat loss results in utility bills that are higher than they need to be.
Moisture that is dripping down your windows can damage the window seals and ultimately lead to water damage, mold problems, and rotting wood.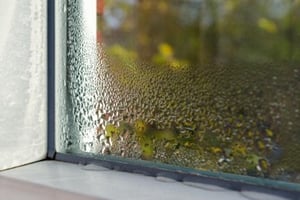 Occasionally, you may have condensation on your windows temporarily. For example, if you take a long,
hot shower, you'll certainly notice condensation on the mirrors and windows in the bathroom. Steam from cooking can cause the kitchen windows to have condensation on them for a short amount of time. And even here in northeast Florida, the temperatures can take a quick, sudden dip and leave the insides of your windows looking foggy.

However, if you notice frequent or long-lasting condensation on your windows, you'll need to take action to reduce or control the moisture in your house. For example:
Run a dehumidifier when needed. Be sure you don't run it excessively, or else you'll start to experience dry skin or a scratchy throat! But if you notice condensation running down the panes on your window, a dehumidifier can be a temporary solution.
Use the exhaust fan. If your bathroom has an exhaust fan, be sure it's on when anyone takes a bath or shower, and always flip on the exhaust fan above the stove when cooking.
Hire a good professional window cleaning company to clean the interior windows in your home. Great window cleaners are trained to inspect windows as they clean them and to make sure the seals are intact and that the frames, panes, seals, sills, and screens are in good shape and functioning as they should.
There are a lot of good Jacksonville FL window cleaning companies, but First Coast Home Pros is the highly rated service to trust with your home. Our trained window cleaning experts know how to clean windows safely and thoroughly. We use the best tools and cleaning solutions in the industry, ensuring your windows are crystal clear and free of streaks. Find out what our customers in Ponte Vedra Beach, Atlantic Beach, San Marco, and Mandarin know-- that we're the best Jacksonville FL window cleaners and the right choice for your home!