In order to keep your carpet in good shape and your home looking great, frequent vacuuming and regular carpet cleaning are in order. However, incorrect carpet cleaning practices can be even more damaging to your carpet than if you neglected to clean it in the first place!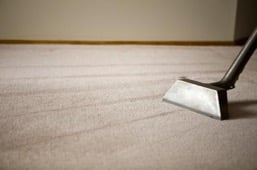 Help protect your carpet and keep it looking good by avoiding these carpet cleaning mistakes:
Too Much Water:Overwetting occurs when too much water soaks into the carpet and does not get adequately suctioned out and removed. When carpet is overwetted, it can become discolored or even shrink. Worse still, it can be impossible to get the carpet adequately dry, and mold and mildew can grow, causing irreparable damage.
Too Much Cleaning Solution:If you use too much carpet cleaning solution or shampoo, you won't be able to extract it all, or you'll need to use too much water to do so, which can damage the carpet. And if any cleaning solution residue is left behind, it'll make the carpet sticky, and then dirt and debris will stick to the carpet fibers, making your carpet even dirtier than before you cleaned it!
Incorrect Use of Deodorizer:Pet owners often want to cover up the odor left behind by their dogs and cats, but deodorizer is not a substitute for a good quality carpet cleaning solution. Using too much deodorizer or using the wrong kind of deodorizer can make the carpet look messy and dull. Excess deodorizer powder cannot get suctioned up by your vacuum and will leave the carpet looking messy and dull.
Returning Furniture Too Soon:If you move your furniture back into place before the carpet is adequately dried, or if you forget to use protection under the furniture legs, you could risk staining the carpet or damaging the furniture. Dyes in wood furniture can transfer onto damp carpet, and metal furniture legs can create rust.
Voiding Your Carpet's Warranty:Many carpet manufacturers have warranties that require the carpet to be cleaned by professional carpet cleaning companies. By renting carpet cleaning equipment and attempting it yourself, you could void the warranty. It's also important to note that many warranties recommend that the carpet be cleaned using hot water extraction method.
If you're thinking about renting a DIY carpet cleaning machine or purchasing deodorizers or carpet cleaners at a hardware or grocery store, call on us instead. First Coast Home Pros is the best Jacksonville FL carpet cleaning company and the trusted service provider to call on for your carpet, as well as your tile and grout, upholstery, and more. We're passionate about providing you with outstanding customer service as well as making your home a place of relaxation and comfort. Take the worry and anxiety out of it and call on us for truly clean carpet! Our customers in Ponte Vedra Beach, Mandarin, Riverside, and downtown Jacksonville love the results of our highly quality carpet cleaning service… give us a try and find out why!