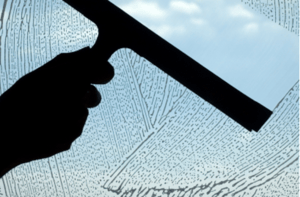 Bright sunshine, high humidity, hot and wet summers, and cool and damp winters are all things we get to experience living in Northeast Florida. We love Jacksonville FL living, but there is no doubt that the conditions here are perfect for mildew growth, and for homes in Ponte Vedra, St. Augustine, and along the First Coast, salt and sand can cause corrosion. These conditions, coupled with the everyday dust, dirt, and debris, can create buildup on your windows and cause damage. Our customers often ask us how often they should have their windows professionally cleaned. In general, we recommend that our customers throughout Northeast Florida have their windows cleaned by a highly rated cleaning company 1-4 times per year, with the average being two times per year for exterior glass and once per year for interior glass.
Here are some tips for helping you further determine how often to call on a great Jacksonville window cleaning service:
You live at the beach.

If you live near the ocean, you'll need to have your windows cleaned frequently in order to protect the glass. Sand and salt are corrosive to glass, so if you live right along the ocean, it is reasonable to have your windows cleaned once every 1-2 months.

You live downtown.

If you live in the heart of the city, your home may be subjected to more pollution than homes in other areas, and you may subsequently choose to have your windows cleaned every 3-4 months to keep the haze and grime at a minimum.

You are "picky" about your home's neat appearance.

If you don't mind the haze that builds up on window panes, or the cobwebs in the corners, you can probably get away with 1-2 cleanings per year. However, if you are invested in your home's appearance and keep a meticulous lawn and freshly painted siding, etc., you'll probably choose to call on good window washers at least once every few months.

You are conscientious about the care of your home.

Cleaning your home's exterior regularly is important for keeping damaging and corrosive debris, mildew, bacteria, and mold at bay. If you are aware of the importance of keeping your home free of potential hazards, you'll probably choose to have window cleaning, pressure washing, and other such exterior cleaning projects done frequently.

You spend most of your time at home.

If you are a stay-at-home parent, work from home, are retired, or otherwise spend a lot of time at home, you will probably choose to have your windows cleaned several times per year, in order to keep your view crystal clear.
At First Coast Home Pros, we are the window cleaning experts. Our technicians are highly trained to use window cleaning methods and techniques that will leave your windows thoroughly clean, with no streaks, drips, or haze. We also use the best cleaning formula in the industry -- it's pH neutral, biodegradable, and has anti-static properties in its formula that work to repel dirt from your windows, keeping them cleaner longer. Homeowners in Ponte Vedra, St. Augustine, Jacksonville Beach, and Atlantic Beach, Riverside Avondale, and the surrounding neighborhoods know we can remove even the toughest mildew stains and dirt accumulation. Let us give your windows the professional cleaning they deserve!