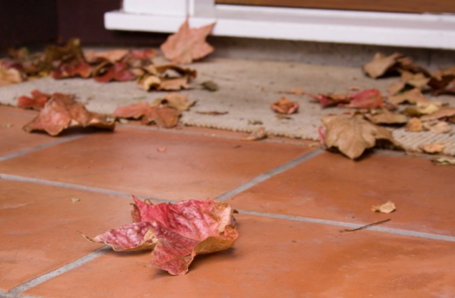 Winter weather takes a toll on carpet. Even though our winters are mild here in Northeast Florida, we still track in damp leaves and debris, mud, and even ice and rock salt, all of which will burrow into the carpet fibers, causing damage and making the carpet dirty. Here are 10 tips to keep your carpet clean all winter long!
Protect your carpet from winter weather and stains.
Keep your walkway and doorstep clear of all leaves and damp debris by sweeping often. Some homeowners like to invest in a push broom for expansive walkways to make the job easier.

Whenever possible, park in the garage to avoid tracking in debris from outdoors.

At every entrance to your home, keep one doormat outside to collect the majority of debris, and another doormat just inside to collect residual debris.

Use a shoe rack, or establish a "shoe zone," and ask your family members and guests to leave all shoes and boots there upon entering your home.

Buy a heavy duty runner or a thick, winter rug that you can roll out during especially bad weather. This will not only protect your carpet, but also all hardwood, tile, area rugs, and other flooring, especially in high traffic areas. These winter rugs and runners do not have to be expensive or even attractive, as they are only protecting your existing flooring from winter weather and debris.

When your children come in from playing outdoors, remove and store their winter boots and coats by the door, rather than allow them to wear them indoors. Likewise, with pets who come in from outside, wipe their paws before allowing them to enter the house. Some homeowners like to set up a temporary pen around any pet doors, so that the pets stay enclosed until their paws and fur can be cleaned.

Prepare for snow! Snow, frost, and ice are extremely rare in Northeast Florida, but are still known to occur, and you can be ready to address such weather. Use a dry cloth to remove any pieces of ice that may get tracked in. Then, mix a small amount of mild dish detergent with warm water and apply the solution with a soft cloth to the affected area, working from the perimeter of the stain inward. Rinse the area using plain water and a new cloth, and pat the area dry. When the area has dried, go over it with a vacuum.

Prepare for winter-related stains. Something that goes hand in hand with frost and snow is rock salt. If salt gets tracked into your home, it can do real damage to carpet fibers, as well as upholstery, hardwood flooring, and just about any other surface around the interior of your home. Here's how to address it: Mix equal parts warm water and white vinegar into a spray bottle. Spray the affected area with the mixture, and gently rub the area with a cloth or soft brush, which will bring the salt to the surface. Then, press a clean, dry cloth to the fibers and dab gently. You want to collect the salt into the dry cloth, being careful not to dig it into the fibers again. When the area has dried, go over it with the vacuum. Cold weather means fires in the fireplace, but sometimes soot can spread onto your carpet. Should this occur, use the hose attachment on your vacuum to collect as much soot as possible from the surface of the carpet. Then, sprinkle baking soda on the affected area and let it sit for approximately one hour. Vacuum the area once again, watching that the baking soda is pulling up the residual soot along with it.

Vacuum more often than usual. Keep dirt and debris at a minimum by vacuuming routinely and frequently, especially near the entrances to your home, and along all mats and winter rugs.

Schedule routine cleanings with a great carpet cleaning service. This is the perfect time to call on one of the best carpet cleaning companies in your area, and trust their technicians to clean your carpet thoroughly of all winter stains, dirt, and grime. Nothing gets your carpet clean like the specialized cleaning solutions and hot water extraction method used by the best professional carpet cleaners. Your carpets will look great, your home will be clean and sanitized, and your guests will wonder how you do it!
Best Carpet Cleaning In Jacksonville FL
Here in Jacksonville, the choice is easy: First Coast Home Pros is the best carpet cleaning company in the region, serving clients in Ortega, Riverside, Southside, Sawgrass, Ponte Vedra Beach, and of course, downtown Jacksonville. It's easy to see why we are the best - our technicians are highly trained, courteous professionals, and we are passionate about what we do. We use the hot water extraction method, which is the best carpet cleaning method possible, recommended by carpet manufacturers and homeowners alike, and preferred by our clients. Let us give your carpet the thorough cleaning it needs for the winter season, and make your home look and feel amazingly clean!