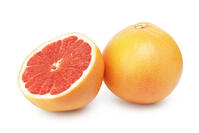 Organic and environmentally-friendly cleaning products have become all the rage lately, and it isn't simply a matter of conscience. Green cleaning supplies are often cheaper than chemical products, are safer for your children and pets, and will often extend the lifespan of appliances, furniture, and fittings. To help encourage you to join the green movement, First Coast Home Pros presents you with the following recipes for homemade cleaning solutions that really work for a variety of Jacksonville, Florida house cleaning needs.
Easy Bathtub and Sink Cleaner
Did you know that your entire bathtub could be cleaned with a single piece of fruit? This simple cleaning trick will leave the basin and walls sparkling and citrus fresh!
1 med-large grapefruit, sliced in half
1/4 cup kosher salt
Dust some of the salt on the grapefruit halves, then sprinkle the rest around the dampened bottom of your tub. Use the grapefruit to scrub around the tub and fixtures, lifting every once and a while to pick up more salt, and squeezing a little juice out as you clean the fixtures. When you're finished, simply rinse away the leftover bits.
How does it work? Salt is a natural abrasive which is also used by many Buddhist monks in place of toothpaste. Added to the acids found in the grapefruit, and the combination is able to easily remove dirt rings, soap scum, and even shine up the metal of your fixtures. This method is gentle enough that you won't scratch up the ceramic or plastic, yet will shine up even an old cast iron tub.
Drain Cleaner
Speaking of tubs, First Coast Home Pros understands the frustration of having to pay a plumber to snake your drains because of excess hair and debris. Cleaning out your tub and sink regularly will help prevent clogs, and is a simple matter that requires only two ingredients, both of which should be staples in your household cleaning arsenal.
1 cup white vinegar
1/2 cup baking soda
Pour the baking soda down your drain and then add the vinegar. This is just like the volcano experiments you did as a child. The base and acid react together, causing the baking soda to foam and fizzle. The pressure from this helps loosen hair and other debris that could lead to a clog. After fifteen minutes, rinse thoroughly with hot or boiling water. If you haven't cleaned the drains regularly or have a heavy shedder in your home, you may wish to leave the vinegar in for longer or even overnight. Because these are natural cleaners, the vinegar and baking soda mix is safe for all pipes, from lead to PVC.
Natural Silver Cleaner
Have you ever invited important guests over only to find out that your best silver is tarnished? Don't waste time trying to scrub them down or use chemicals which could stain your sink. Cleaning is quite simple with a few kitchen ingredients.
a large saucepan
aluminum foil
1 tablespoon baking soda
4 cups of water
Add a piece of aluminum foil with the water and baking soda in the saucepan and bring to a boil. Place a few pieces of silverware in at a time for ten seconds, longer if necessary. Carefully remove them with a pair of tongs and add more as needed.
Natural Grease Remover
As an alternative to chemical-based dish soaps, First Coast Home Pros suggests using some old friends to do the job quickly and effectively.
white vinegar
baking soda
Baking soda is an excellent all-purpose cleaner and odor remover. It's also non-abrasive, which keeps your appliances looking nice and new. Simply place a little on a damp sponge and wipe down the counters, range, and other areas where grease has accumulated. Another wipe with a clean cloth will take care of any residue.
Vinegar is also a universal cleaner that is known for breaking down grease. Keep some in a spray bottle for easy access. To clean grease, spray some over the greasy area and let it sit for several minutes. Afterward, wipe the vinegar up with a cloth or sponge.
For Those Difficult Jobs
Keeping your home clean can sometimes be a tiring, time-consuming task. Perhaps you don't have enough time to give each room the attention it needs. If you have a busy schedule or would like everything professionally cleaned before beginning your new green regime, First Coast Home Pros is here to help. We offer a variety of IICRC (Institute of Inspection, Cleaning, and Restoration Certification) services throughout Jacksonville, Florida, setting high standards. We can empty your house of its dirt and grime without emptying your bank account. If you have further questions or wish to schedule an appointment, please feel free to contact us today.