Spring is here and for many of us, that means it's time to air out the house and delve into those deep cleaning tasks that have been building all year. Here are some tips to knock out your cleaning checklist, have a little fun while doing it, and generally WIN at spring cleaning!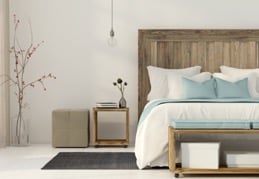 1. Make your checklist. Take the time to actually write down what you need to accomplish during your deep cleaning. Scrubbing the tub and toilets are no-brainers, but you might be surprised at the tasks that slip through the cracks once you get going, so write them down. You might make one enormous master checklist for the house, or you might make one checklist per room or area. Either way, make sure you clean everything in the order that optimizes your efficiency. For example, don't wait until you've scrubbed the floors to get the ladder and clean the arms of the ceiling fan – the dust will fall down onto your shining floors.
2. Get everything on your supplies list. Part of your list-making should include writing down the cleaning supplies you need to gather, buy, or even rent. Be sure you have the right cleaning solutions for cleaning mirrors, cleaning marble countertops, killing mold, and sanitizing your flooring. You'll also need the right vacuum attachments, scrub pads and cleaning cloths that won't leave scratches,
3. Set aside the time. Schedule the right amount of time on a day that you know you'll be able to knock out your task list. Spring cleaning or deep cleaning typically takes hours, and you'll want to be sure that once you get going, you don't have to stop for appointments or distractions.
4. Set the tone. Do everything you can to enjoy the cleaning time. Cue up your favorite playlists or podcasts, open the windows to let the fresh air in, and start checking things off the list.
5. Divide the task list. If possible, employ family members or friends to help you!
6. Most Important Tip – Forget everything listed above and call on a highly rated professional maid service to take care of the spring cleaning for you! Book an appointment at the time that works for you, discuss with the team leader what you'd like to have accomplished (she'll probably already have it all on her own checklist), and then take yourself to the movies or just sit back and relax.
There are a lot of good Jacksonville FL house cleaning companies, but our customers in Riverside, Atlantic Beach, San Marco, Southside, and Ponte Vedra will agree that First Coast Home Pros is the best maid service and the ones to trust with your home.You may not love cleaning your house, but we do!We specialize in deep cleaning and spring cleaning as well as maintenance cleaning, meaning you can call on us for a 1-time deep cleaning or you can book us to come every week to clean your house just the way you want it done.Let's get you scheduled today!