Hurricane season is here again and chances are you have a checklist to make sure your home and family members are ready for any big storms that come our way. If your checklist does not include cleaning the gutters, add that to the list today!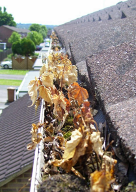 Gutter cleaning is an important part of home maintenance, and a VERY important part of hurricane preparedness. Here in Northeast Florida, there are so many types of debris that can clog your gutters. Live oak leaves fall twice per year, and pine needles and Spanish moss are prolific, to say nothing of insect nests and infestations. The purpose of your gutters is to direct rainwater away from your home and prevent flooding. If your gutters are packed with leaves and debris, your gutters can't perform their function during a rainstorm, and certainly not during a hurricane!
When preparing for hurricane seasons, you have two choices for gutter cleaning:
DIY Gutter Cleaning – Set up your ladder safely.

Wearing heavy duty work gloves, go around the house scooping out all wet leaves, sticks, gunk, and other debris into a bucket.

Whenever the bucket gets full, empty it into a yard waste bag.

As you go, inspect your gutters for tears, corrosion, leaks, or any other damage so that you can be sure to get the areas fixed before a storm hits.

Also, be sure to watch for nails or screws that protrude, and other sharp edges along the gutters that could potentially hurt your hands, even when wearing gloves.

When the debris is completely removed, use your garden hose to flush out all gutters and downspouts.
Call the Pros – Gutter cleaning is messy, wet, and generally unpleasant work... at least according to our customers!

You can skip the hassle entirely by calling on a highly rated gutter cleaning company in your area and trusting the job to the pros.

Many homeowners in Jacksonville Beach, Atlantic Beach, Southside, Nocatee, and Ponte Vedra Beach choose to call on the best gutter cleaners rather than attempt the job themselves.
First Coast Home Pros is the best gutter cleaning company Jacksonville FL residents call on to get ready for hurricane season. We know how important clean, clear gutters are in protecting your home during tropical storms and hurricanes, and we take our job seriously. We've got the equipment and skills to do the job well, and you can rest easily knowing your gutters are ready for rainfall. Call and let's get you scheduled for a gutter cleaning today!