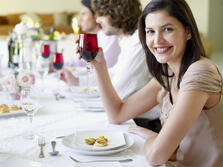 When you invite guests to your home, you let them into your world. Your home is the window into who you are, so why not give the best view possible? Present your home to your guests in a way that will stand out above the rest. A great atmosphere and beautiful decor are a few ways to leave a lasting impression with your guests. However, if you truly want to make your mark, a clean home is the best way to do so. If you feel as though you may need to enlist the help of housekeeping professionals, have no fear. Choose a housekeeping service in Jacksonville that will pay attention to the minor details that make up the overall finished product.
If you feel that your home is clean, you may want to take a closer look. General pick up and day to day cleaning are not enough to truly make your home its cleanest. Your home is made up of many components that can be easy to forget if you don't take note.
Here are a few areas of the home that can be overlooked and probably could use a good cleaning:
Windows - Clean windows are essential to the look of a clean home. Not only do windows let in much needed natural light, they also provide a view to the outside world. It is extremely important to have clean windows at all times in order to complete the total package of a clean home.
Chandeliers - These elegant fixtures are magnets for dust and spider webs. Chandeliers are often found in dining areas in the home, the last place a guests would want to deal with dust bunnies.
Carpets - Your carpets go through a lot, constantly trampled underfoot each day. Getting the carpet cleaned will improve the look of a room almost instantly.
Tile and Grout - Unsealed grout is a breeding ground for stains due to its porous nature. Sometimes all that is needed is a good scrub to make it look like new. Your guests are sure to notice.
Air Ducts - Did you know that indoor air could be up to five times more polluted than the air outside? Indoor air pollution can be linked to a number of problems including headaches, chronic cough, and respiratory problems. Having your ducts cleaned is the first step for cleaner indoor air.
These are only a few of the many housekeeping services offered by First Coast Home Pros in Jacksonville, Florida. However, this cleaning service doesn't stop inside the home. First Coast Home Pros also offer many exterior services as well. Make the right first impression with your guests starting from the outside in.
Here are a few of the exterior services:
Pressure Washing - If the siding of your home has unsightly dirt, a pressure washing session can be the solution to your problem. Your sidewalk and driveway can also benefit from a routine pressure wash.
Gutter Cleaning - It is very important to have your gutters cleaned annually to prevent water damage to your home, deter birds and insects from nesting, and prevent the destruction of landscaping.
Deck Refinishing - Your deck may be the stage that your gatherings take place on, so you will want it to look its best! The weather and elements can be hard on the appearance of your deck. Having it refinished can restore your deck back to its original grandeur.
First Coast Home Pros was founded by Joshua Kennedy in 2008. This company is locally owned and operated, based in Jacksonville, FL. In addition to the services listed, First Coast Home Pros also offers blind cleaning, wood floor cleaning, upholstery cleaning, leather cleaning, dryer vent cleaning, roof cleaning, and screen repair and replacement.