Dogs and cats are a part of many households, and to most of us, they're family. However, the shedding, urine spots, and other little messes that come along with pets can take a toll on your carpet, if you're not careful. Our tips will help you keep your carpet looking great, no matter how many four-legged family members you have in your home!
Here are our tips for keeping carpet clean in a pet-friendly home:
Wipe paws when coming in from outdoors. Keep a towel by the door and wipe your pet's paws whenever he comes in from a walk. Some savvy pet owners even recommend keeping a bowl of water near the door as well and dipping pets' paws in the water, then drying them off with a towel. Your pet may not like this routine, but it will keep much of the debris and bacteria from the street from entering your house and embedding into the carpet, upholstery, etc.

Groom your pet regularly. Give your dog or cat a thorough brushing regularly, and dispose of the hair that you collect. This way, that hair won't find its way into your carpet fibers.

Make sure your cat's litter box is not on carpet. Put the litter box somewhere carpet-free, like the kitchen or bathroom. Tile is easier to wipe up than carpet, in case your cat misses the target occasionally.

Add area rugs and runners. Small, inexpensive rugs can protect your nice carpet from urine stains. Small rugs can be thrown into the washing machine, and inexpensive rugs can be tossed if they suffer extreme urine stains, etc. Place a rug by each door to trap as much dust, dirt, etc. from outside (both from your pet's paws and from your own shoes).

Place an old towel or a sheet over the areas where your pet particularly likes to be, and then shake it out or throw it in the wash as needed.

Address stains quickly. The sooner you can clean up a pet stain, the better. When animal urine is allowed to dry on the carpet, it can permanently alter the dye, and leave odors that persist. Blot recent stains with a clean towel in order to absorb as much moisture as possible. If there is any old residue left, remove it with a dull knife. If the odor persists, call your carpet cleaning professionals. .

Avoid using cleaning products with ammonia, and even white vinegar, as they can smell similar to pet urine and can tempt your pet to continue marking the area.

Vacuum several times per week using strong suction. Be sure your vacuum includes a high efficiency particulate air (HEPA) filter. Around any transitions where your carpet abuts tile or hardwood flooring, wipe the area with an electrostatic mop (this keeps the hair from blowing around.) Don't underestimate the amount of dander your pet can produce. Hair and dander can accumulate along the baseboards, so use your vacuum attachment to extract the hair from along these crevices.

Routinely clean your upholstered furniture with a lint roller, and vacuum it using the attachment.

Hire a great carpet cleaning service. Professional carpet cleaning companies have powerful equipment that can get your carpet thoroughly clean. Regular vacuuming is great for day-to-day upkeep, but your carpet does need to be deep cleaned routinely in order to stay looking, smelling, and feeling good.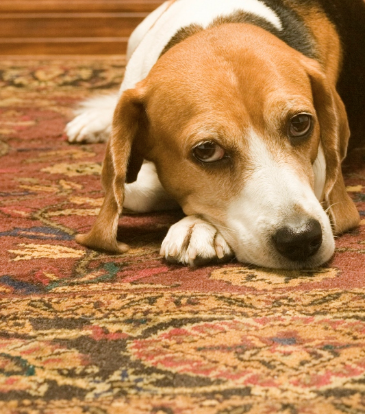 First Coast Home Pros is the best carpet cleaning company Jacksonville FL pet owners call on. We use the best equipment and cleaning solutions on the market, and can keep your carpet looking and feeling great. We use the hot water extraction method, which is the carpet cleaning method recommended by the IICRC. Pet owners across town in Mandarin, Ortega, Nocatee, Riverside, and along the beaches know to call on us when their pets have accidents, or when they feel that their carpet needs to be freshened up and deep cleaned. Let our trained carpet cleaning technicians do the same for your home!