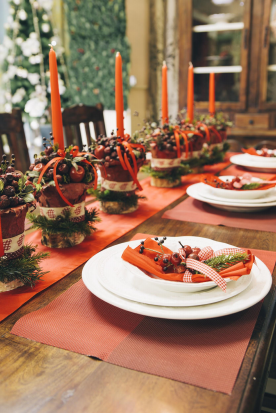 The holiday season is just around the corner, and, ready or not, the houseguests will soon be arriving. Perhaps it's your turn to host the family holiday event of the year, with out-of-town relatives in every guest room, or an open house for the neighbors, or the annual year-end party for your work colleagues. Of course, you may skip all the big celebrations, but want a sparkling clean home to enjoy for yourself! No matter what you have planned for the fast-approaching holidays, the best way to prepare is to hire our team of award-winning house cleaners to prepare your home for the season!

Here are the top 5 reasons to hire First Coast Home Pros home for the holidays:
Our house cleaners are highly skilled.

We pride ourselves on providing each member of our team with extensive training and experience, ensuring each one is ready to tackle any type of cleaning project using the most effective method, skills, and cleaning solutions. Our team members are capable, efficient, and professional workers, ready to go to work on your home.

Our house cleaners are detail-oriented.

The quality of house cleaning is in the details, and we are truly meticulous about our work. We thoroughly clean your home top to bottom. Our thoroughness has earned us the trust of countless discerning clients, who prefer the most luxurious level of detailed clean possible. Let us do the same for you!

We care about our clients!

We work with you to make a customized cleaning regimen for your home, so that it is cleaned exactly how you want it to be cleaned, every time.

Our housekeepers are friendly and nice to have in your home.

We love what we do, and it shows! Our housekeepers are friendly and easy to have around. Many house cleaning companies hire subcontractors, and you never know who you'll have coming into your house. We do things differently at First Coast Home Pros. We match the perfect house cleaning team to your home, so that your house will get the specific attention you want for it, and you will see the same smiling faces every time we come to clean.

We treat your home the way we'd want ours to be treated.

When it comes to service, we strongly hold to the Golden Rule, so the best part of choosing us for your housekeeping needs, is that we treat your home the way we want our own to be treated. The level of care we give your home is unmatched by other housekeeping services.
It's important to find a house cleaning company that you can trust to treat your home with care, and make it look exactly as you want it to look. With the holidays approaching, this is more important than ever.
The Best Housekeeping Service For Your Home
There are many good house cleaning services in Jacksonville FL, but we are proud to be the best and most trusted. Countless clients throughout Northeast Florida, including Ponte Vedra Beach, Atlantic Beach, St. Augustine, Fleming Island, and downtown Jacksonville and suburbs know they can rely on us to make their homes look exactly how they like. We specialize in providing the most detailed level of care for your home, and what better time to enjoy our service than during the holidays. You'll love coming home to the house we've cleaned, and your holiday guests, neighbors, and family will too!