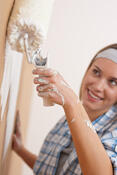 Many of us have the same resolutions year after year, but, this year, here are a few things to get you away from the usual "lose weight" or "join a gym" resolutions. Jacksonville homeowners can get a lot accomplished in a new year, and, oftentimes, the momentum of a fresh start is all you will need to stay motivated. Practicing good housekeeping can help you decompress from the holidays and tie off loose ends in the new year!
Home Gardening
Doing some simple at-home gardening can help you to:
What more motivation do you need? Raised plant beds are a great option for gardening because you get to control the soil more easily than doing it in your lawn, you don't have to worry about weeds or pesticides, and you can more easily control the nutrients and water intake of your plants. In reality, all you need is some wood, a saw, a drill, and some elbow grease.
Refinish Old Furniture
Many of us enjoy the new year because it offers a fresh start. Instead of buying new things, find the pieces of furniture you love and refinish them yourself or find someone who knows how. This is a good way to do a little recycling and reorganizing as you find the pieces you want to keep around and donate the ones you don't!
Create More Storage
This is a great time to look at your closets and figure out ways to make them work better for you! A great way to get started is to work from the list below:
Clean out your closets.

Donate anything that can be reused.

Take inventory of what you want to store.

Measure your closets.

Find a closet system that best fits your needs.
Who doesn't like to start the new year organized and feeling in order? One of the best ways to create more storage is to go vertical. Most closets do not maximize the space from floor to ceiling. Many stores offer solutions for this or you could hire someone to custom build new closets. Either way, do a little research and check out some closet options for good housekeeping for your Jacksonville, FL home.
Rethink Your Office
A growing trend in the new year is the concept of "standing desks." So many people today have jobs that keep them behind a desk for 8-10 hours a day. Benefits for standing desks:
Increased energy levels

Better posture

Building core strength
Standing desks or work stations, whether used at the office or in your home office, can serve as a great way to jump start your fitness new year's resolution and not only help you lose weight, but promote an all-around more healthy lifestyle.
Finish Up Those DIYs
A major trend of recent years was do-it-yourself projects. As great and fulfilling as they are, we can sometimes start them and then leave them unfinished. Make a new year's resolution to tie up those loose ends by finishing your DIY projects and start a few more that will allow you to improve your home. Make sure that you ask yourself the following questions before you get started on a DIY project:
Do I have the skills necessary to complete the project?

Do I have the tools necessary to complete the project?

What will the project cost if I take it on myself?

What will the project cost if I hire a contractor to do it?

Is it possible that I can handle most of the project and get a skilled friend or contractor to take on the parts I can't do?

What's a realistic timeline for me to complete this project?
The previous questions will keep you from starting more projects that you might leave unfinished for yet another new year!
Keeping Your House in Tip Top Shape
Another great new year's resolution for homeowners is to not only get your home in order, but to keep it clean and organized! Housekeeping in Jacksonville, FL has been made easier thanks to First Coast Home Pros. We offer a variety of home cleaning and housekeeping services in the Jacksonville, FL area, including:
Weekly, bi-weekly, and monthly cleaning services

One-time deep cleaning services

Cleaning blinds, shutters, & curtains

Chandelier cleaning

and many more!