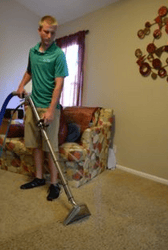 There is nothing better than the look and feel of freshly cleaned carpet, especially when the job was done by a team of truly great professional carpet cleaners. It can come as a big surprise, therefore, if any spots return to your carpet's surface once the carpet cleaning team has left. What causes these spots to occasionally return, even after a high quality carpet cleaning job?
Resoiling vs. Soil Wicking
There are two main reasons that spots may appear on your clean carpet: resoiling and soil wicking, both of which have to do with previous stains.
1. Resoiling (new soils clings to old residue)
Resoiling, also known as restaining, occurs when a new soil attaches to an existing residue in the carpet. This existing residue may be any number of things. Grease and food stains, sugary drink spills, body lotions, and body oils are all stains that would likely leave behind a sticky residue. Tape and other adhesives, of course, would also leave a sticky area on carpet. Any of these stains would be tough to completely remove, and would most likely leave a residue. Believe it or not, spot removers can also leave residue in your carpet fibers. Many of the spot removers found in hardware stores and grocery stores will leave behind a residue, particularly if they are applied too heavily or not thoroughly rinsed.
2. Soil Wicking (reactivation of an old stain)
The primary culprit in soil wicking is the backing of the carpet. Carpet is constructed using multiple layers of yarns that are stitched into this backing. When you spill a drink on the carpet or your pet has an accident on it, these stains will not only penetrate the carpet fibers, but may also penetrate the carpet's backing. If a stain reaches the backing, it will likely spread, sometimes as much as several inches in every direction. Moreover, if the stain reaches the backing it will have time to dry. Your carpet's backing has a second layer, known as the secondary backing, which reinforces it. If the stain reaches the secondary backing, the same effect occurs, and the stain becomes exaggerated and spreads even more. If your carpet cleaning team uses the hot water extraction on your carpet, this moisture will reactivate the stain in the carpet backing. The stain can travel up the carpet's fibers to the surface once again, causing the stains to reappear. Unfortunately, these stains will only reappear once your carpet dries, so you won't see them until hours later, long after the carpet cleaning team has left your home.
What To Do When Spots Reappear On Your Carpet
If your clean carpet experiences resoiling or soil wicking, call the carpet cleaners and tell them what is happening. Treating the spots yourself may make them worse, so it's best to call the technicians and let them work to remove the spots. The best carpet cleaning services will do their best to find a solution. This may mean applying stronger or more specialized cleaning chemicals to the affected areas and rinsing them multiple times. Even the best carpet cleaning companies cannot guarantee that spots won't reappear, but if they do, these companies will do everything they can to make sure you are thrilled with the way your carpet looks.
The Best Carpet Cleaning Company In Jacksonville FL
The best carpet cleaning professionals know how to get your carpet thoroughly clean and looking great. First Coast Home Pros specializes in carpet cleaning, and we've made it our business to understand spots and stains and how to treat them. Our equipment is the best in the industry, and so are our technicians - each one is highly trained and cares about your carpet the way you do. Schedule a carpet cleaning appointment with us and see for yourself what countless Jacksonville, Riverside, Southside, and Beaches clients already know - we're the expert carpet cleaners in town!