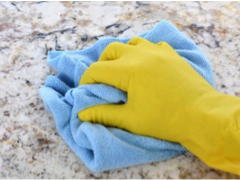 Your granite countertops are an investment, and as always, you want to protect your investment from damage. In the case of granite kitchen counters, that damage comes from wine, pizza sauce, and other food stains and buildup. Granite is a hard and durable stone surface, usually made of feldspar, mica, and quartz, and it's easy to forget that this hard surface is still susceptible to damage. Granite is also porous, and therefore can absorb liquid spills, hold on to stains, and show wear and tear, when not properly protected. Use our tips to keep your granite clean, properly sealed, and looking beautiful for decades.
Sealing Granite The Right Way
The best way to protect and preserve your granite countertop is to seal it. A good coat of granite sealer will protect your countertops from food spills, cooking grease and oil, and even water marks. The sealer will penetrate and fill the pores in the stone, so that they'll be sealed from liquids, better able to fend off stains, and easier to keep clean. Here's how you can properly seal your granite kitchen counters:
Plan - Sealing your granite counters takes some planning. The surface will need to be prepped, and then, once the sealer is applied, it will need to cure for up to 6 hours. For the best results, any dinner preparations will need to take place on an alternative surface, or after the curing has taken place, so plan accordingly. You will also want to keep all pets and children out of the room during the application process, since the fumes can be strong, and plan to have the windows open or to otherwise allow for good ventilation for your sealing project.

Clean - Clean the surface in order to rid it of all debris and food stains, and to ensure the sealant will absorb properly. Use a mild, antibacterial dish detergent mixed with warm water, and a soft sponge or cloth to gently remove all residue and buildup. Avoid using steel wool, hard bristles, or other cleaning tools that could scratch the granite, as well as abrasive or acidic cleaning solutions that could damage the surface.

Protect non-sealer areas - Protect the sink, caulk, and other nearby surfaces that you do not want to coat with sealer. Simple plastic wrap will work just fine.

Coat - Saturate the granite surface with the sealer. You can either apply the sealer evenly with a soft cloth, or spray it from a spray bottle. Find a highly rated sealer that is approved by the manufacturer of your countertops, and don't forget to read the instructions, and all other fine print of your sealer to be sure it will indeed work well with your granite surface. Wear rubber gloves while handling the sealer.

Dwell - After applying the sealer, it should have a glossy, wet look. Let the sealer sit for at least 10 minutes, in order to thoroughly penetrate the stone. If your granite is highly porous, or if it has not been sealed in quite a while, you may need to apply a second coat.

Cure - After 10 minutes or more, remove all excess sealer with a dry cloth or paper towel, using circular motions. Then allow the surface to cure for at least 6 hours, or the recommended cure time, as listed on your product's guidelines from the manufacturer.

Clean (again) - After the curing stage is over, wipe the surfaces with the same mild dish detergent and water, and your countertops will be ready to use!
If the fumes, the sealer, or the entire process sound like something you'd rather avoid, find a great granite sealer or cleaning service to take care of it for you. Your granite needs to be sealed anywhere from 1-4 times per year, depending on how often you use the surfaces, what type of work you do on them, and how light or dark they are in color. Your local professional stone and granite cleaning company will be able to work with you to determine how often the sealing should take place. By developing a maintenance cleaning plan, addressing spills as they occur, and ensuring your granite is properly sealed, your countertops will remain one of your favorite parts of your kitchen, and will be durable and lustrous for years.
Granite Sealing Jacksonville FL Experts
First Coast Home Pros is the best cleaning company in Jacksonville FL, and that includes granite cleaning and sealing. Our tile, stone, and grout cleaning team specializes in cleaning and sealing your granite countertops, ensuring no stains will penetrate them, and that they'll be performing well and looking great for years to come. We love what we do, and it shows - each of our highly trained technicians is an expert at sealing and caring for your granite surfaces. We serve homes throughout Northeast FL, including Jacksonville and the surrounding suburbs and beaches, and we would love the opportunity to treat your granite countertops - and all ceramic, stone, and tile surfaces, for that matter - to the cleaning and care they deserve!