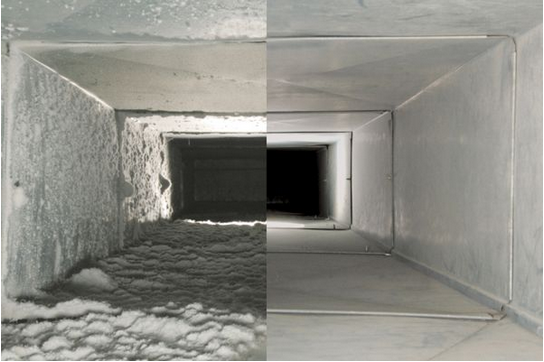 Keeping air ducts clean and clear is important in maintaining the air quality in your home. When dust accumulates in your ventilation system, trouble will occur. Some issues are highly visible, for example, the accumulation of excess dust on the furniture and fixtures in your home. Some issues, however, are less tangible. For example, when you or someone in your family experiences allergies that are worse than usual, it could be related to the air quality in your home, and thus,possibly to your ductwork. Replacing and repairing your duct system may solve your problem, but can be a costly and invasive process. Effectively cleaning your ducts may also have a positive effect, and at a much lower cost. If you know the type of ductwork you have and the problem that is affecting your system, you'll know whether to replace the system or simply schedule an appointment to have it professionally cleaned.
Know Your Ductwork
Ducts can be made of aluminum, galvanized steel, constructed fiberboard, or flex ducting. Flex ducting consists of metal coils covered in a thin layer of plastic and then wrapped in insulation and foil backing, and is the prevalent type of ducting in the South. Indeed, in Jacksonville, nearly all residential properties use flex duct systems. Certain types of ductwork are more easily cleaned than others. For example, metal ducting with no interior lining is often easily cleaned. Ducts made of constructed fiberboard, however, cannot be easily cleaned and must often be replaced when they become contaminated. Flex ducting is usually easy to clean, but requires special considerations, and therefore should be cleaned by technicians who are specifically trained to work with flexible ductwork.
Know Your Issue
Dust and debris buildup can be effectively cleaned by a professional air duct cleaning company with the right tools and training. A small amount of residual dust is normal for any system. However, if there is air leakage anywhere along the system, it will draw excess dust and dirt into your vents. The best professional air duct cleaning services know how to check for leaks and how to repair the small leaks that they find. Unfortunately, if mold is present in your ducts, your duct system may need to be replaced, depending on the level of contamination. In some cases, a nominal amount of mold may be able to be removed by trained professionals, but if the mold growth is pervasive, it's likely that it would be most cost effective to simply have your duct system replaced.
The First Coast Home Pros Process
As a Jacksonville based company, we have made it our specialty to clean flex ducting. Flex ducts require special cleaning considerations, and we know exactly how to thoroughly clean the ducts throughout your home. We clean all supply ducts, return ducts, and the main trunk with a patented Rotobrush aiR+ air duct cleaning system, which is a dual rotary brush and vacuum. We then wash your vent covers, clean the air handler, inspect your system for leaks, and fix any minor leaks we find. Lastly, we can sanitize your entire system using the EnviroCON antimicrobial fogger. This is an EPA-registered disinfectant that works to prevent mildew and mold in your ducts. This disinfectant is so effective, it's used in hospitals throughout the region, and is an outstanding way to protect your own ducts and maintain good air quality in your home.
Air Duct Cleaning Experts In Jacksonville, FL
First Coast Home Pros is Jacksonville's leader in air duct cleaning, and our technicians are the experts in cleaning flex ducts. If you notice excess dust in your home or think it might be time for a maintenance cleaning, the only call you need to make is to us. Homeowners throughout Northeast Florida, including Fleming Island, Riverside Avondale, Mandarin and San Marco, and all along the beaches know our skills and expertise are unsurpassed. Rid your home of unwanted dust, get those ducts clean, and enjoy great air quality throughout your home when you call on us!