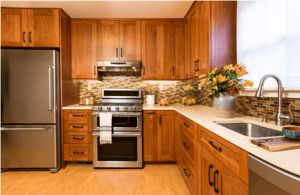 The start of the new year is a time of resolutions, goal setting, and a fresh start. With 2019 now upon us, one of the best ways to celebrate this fresh start is with a fresh and clean home!
Out with the old! Dusty furniture, musty linens, and grimy countertops have GOT to go. A great house cleaning service will rid your home of cobwebs, dust and dirt, and other unwanted remainders of time gone by.
In with the new! Take advantage of the new year and fresh start to create some new healthy habits, such as scheduling routine house cleaning! Most of our house cleaning customers want us to come clean their homes regularly, whether that means once per week or once per month. Regularly scheduled professional house cleaning helps ensure your home is clean, sanitary, and ready for your family and guests to enjoy!
Kick off the new year with the help of a great professional house cleaning service. Here are some things a good maid service can do for you in the new year:
Sanitize the surfaces in your bathroom and make them sparkle.

Deep clean the kitchen, including appliances, to get back to a clean kitchen after all the holiday cooking.

Scrub all sinks and tubs.

Clean the toilet (every homeowner's least favorite job!).

Vacuum the carpet and clean the hard flooring.

Dust, vacuum, and clean all bedrooms and guest rooms to reset the house after holiday visitors and company.

Put clean sheets on the beds.

Dust picture frames, shelves, and bookcases.

...and much more!
First Coast Home Pros is the best cleaning company Jacksonville FL homeowners call on throughout the year! We are the cleaning experts and it shows – we are highly rated and have countless happy customers throughout Jacksonville, Ponte Vedra Beach, Nocatee, Riverside, and Mandarin. We'll get you off to a sparkling clean start for the new year!