If you have ever stepped into your bath or shower only to realize that you have build up on your tiles and grout, you may have wondered what is the best way to clean your tiles and grout.

Cleaning your tile and grout can be a long process, trying to scrub everything clean can take time and it can be costly as you buy cleaning product after cleaning product, just trying to find the one that works the best.

It is important to regularly clean the tile and grout in your bathrooms and kitchens. Soap scum, dirt, and even mold and mildew can build up in these areas. When mold and mildew do start to build up in your tiles and grout it can spread quickly and become a big problem.

A build up of mold and mildew can cause health problems within your home, these health issues may include respiratory infections, increased asthma flares, headaches, nausea and long-term health issues. This is why it is important to clean your tile and grout on a regular basis.

As we mentioned before, grout and tile cleaning can be a painful experience. Not only can it be time consuming and expensive, but those that are sensitive to certain cleaners and chemicals may also find that it gives them a literal headache.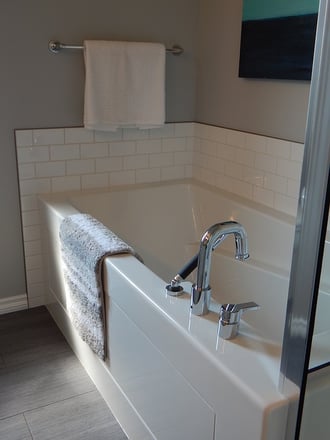 Take the Pain out of Tile Cleaning
You can take the pain out of tile cleaning by hiring a professional to do the job for you. You no longer have to get down on your hands and knees diligently scrubbing at your tile. Professional tile cleaning services can help you keep your tiles clean without the hassle.
When you hire a professional to take care of your grout and tile cleaning, you can sit back and relax knowing that your tiles are being properly cleaned and cared for.
Professional tile and grout cleaning services use the right products and application so that your tiles are cleaned quickly and thoroughly. There is no need to worry about build up of mold and mildew and no need to be concerned that your grout and tiles will be damaged in the process. You will no longer have to dread hopping into the shower or entering your bathroom or kitchen as your tiles and grout will be sparkling clean.
First Coast Home Pros provides professional tile cleaning services for your home. No matter how dirty your tiles are we can get them sparkling clean and keep them that way, so that you no longer have to think twice about your tiles and grout.