Tile flooring is the first choice of countless homeowners, whether for their bathroom floors and showers, mudrooms, lobbies and entrances, or the kitchen floors and backsplashes. Tile is durable and versatile, and available in such a wide variety of colors, styles, and motifs, that there's surely a perfect tile for every area of the home. Perhaps best of all, tiled floors and tiled areas are easy to keep clean. Simple maintenance cleaning and the occasional deep cleaning and stain treatment will keep your tile and grout looking and performing their best. Our five tips will help!
Tip 1: Clean up spills as they occur.
The longer a spill sits on the tile, the higher the likelihood that it will become a stain. Grout is especially prone to staining, since it is porous and typically light in color. If you accidentally spill food onto the tile in your kitchen, wipe it up before it becomes permanent.
Tip 2: Keep shower times to a minimum.
Warm, moist air is the perfect environment for mildew and mold to thrive. If you have tiled showers and bathroom flooring, keep your showers brief and be sure to run the exhaust fan, in order to curtail these problems.
Tip 3: Use a squeegee after each shower.
After each shower, use a squeegee to wipe down the tiles and glass. This will prevent excess water from settling into the porous grout, and will leave fewer mineral deposits on the tile and glass doors. If you want to take an extra step in mildew prevention, create a mixture of equal parts vinegar and water and store it in a spray bottle. Once or twice per week, spray down the tiles after you squeegee them.
Tip 4: When cleaning, start with the gentlest solution.
When the time comes to clean your tile and grout, start by using the mildest cleaning methods, and work your way up to the more intense cleaners and methods, as needed. Harsh cleaning chemicals, such as bleach, may make your grout look clean for a short time, but they also strip away the water repellency capabilities. Once that happens, the grout begins to erode and becomes more susceptible to mildew and discoloration, and may ultimately require re­grouting.
Here are some recommendations for starting with mild cleaners:
1. First, try using only warm water and a soft brush to remove a stain, moving in circular motions over the tile and grout. Let it dry, and check its effectiveness.
2. For soil buildup or lighter stains, try applying the mixture of equal parts vinegar and water. Spray the mixture onto the stain, let it sit for 5 minutes, and then lightly scrub it with a soft brush, and rinse.
3. For stained grout, try rubbing a pencil eraser across the grout lines. In some cases, this will remove the stain, so it's always worth a try!
4. If the pencil eraser doesn't do the job, make a paste of baking soda and water, and apply it to the grout lines. Spray your vinegar and water mixture onto the paste, and let it sit for 5 minutes. Once the mixture has stopped foaming, lightly scrub the area with a soft brush, and rinse.
5. For a more intense approach to stained grout, make a paste of baking soda and hydrogen peroxide, and repeat the process.
6. To remove mildew and mold, make a mixture of equal parts ammonia and water and apply it to the area. For this intense remedy, remember to have proper ventilation for this project, and wear rubber gloves and eye protection.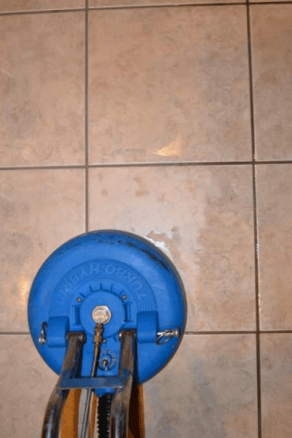 Tip 5: Call the pros.
If you have a stain that won't go away, or an especially tough case of mildew or grime buildup, or even if you simply do not want to hassle with cleaning your tile, find the best tile and grout cleaning service in your neighborhood and let the pros take on the tile care! Grout is porous, and getting it clean is a notoriously difficult DIY project. If a stain or spill has had time to settle into it, the situation may call for professional grade solutions and tools. Great tile and grout cleaners come to your home equipped with the right tools for the job, and the right training to restore your grout and tile. Good professional floor cleaning companies will also be able to apply a sealant to the grout lines. This will create a barrier between your grout and any contaminants that may come into contact with it, giving you more time to clean up a spill when it occurs.
The Best Tile And Grout Cleaning Jacksonville FL Offers!
Despite being easy to clean, tile and grout needs deep cleaning and attention from time to time. First Coast Home Pros is the best tile and grout cleaning service, and our technicians specialize in removing even the toughest stains from tile and grout. Extensive training, the right cleaning solutions, and the best equipment in the field make us the best tile cleaning professionals in the Jacksonville area, including Mandarin, Riverside, Ortega, Avondale, Ponte Vedra Beach, and Atlantic Beach. For monthly maintenance cleaning, deep cleaning, stain treatment, or anything else your tile and grout may need, we are the best Jacksonville FL cleaning company, and the best choice for your home!