Pressure washing is a great way to keep your driveway, walkway, and house exterior clean and looking great. It's also a good way to rid such surfaces of contaminants such as mildew, mold, and bacteria. While pressure washing seems like a harmless enough chore, it can actually be dangerous without the right precautions and information. Our tips can help your project go safely and smoothly! TIP: Choose the right equipment.
Make sure the machine will dispense the right amount of water and cleaning solution. It may sometimes be possible to lighten or remove some of the mildew or grime using only pressurized water, but for a more thorough and much longer lasting clean, you'll need to use cleaning chemicals and not just water.

Check the machine's pressure capabilities before renting or buying. Pressure is measured in psi (pounds per square inch), and typical pressure levels for pressure washing range from a few hundred psi all the way up to several thousand. Don't assume you'll use the highest level of pressure to blast away stains, but instead, look for a machine that can accommodate varying pressure levels. You'll want to adjust the pressure depending on the type of surface you're cleaning.

Check the machine's volume capabilities. A machine that produces a rate of 1 GPM (gallon per minute) cleans much less effectively and much more slowly than a machine that produces 4 GPM.

Decide which type of tip or nozzle is best for your project. There are many various tip sizes, each of which is best for different surfaces and materials.
TIP: Know how to operate the equipment.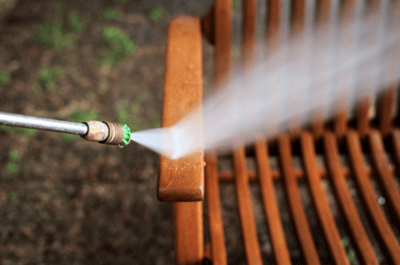 Begin your project using the lowest pressure, and work up to higher pressures, as needed. Many types of material can shatter if too much pressure is used, at risk to you.

Wear protective coverings. Most pressure washing professionals and DIYers alike choose to wear boots and gloves. It's also recommended to wear rain slickers or other outer garments that can protect you from getting excessively wet during the project.
Avoid spraying windows and screens. Even low pressure can shatter glass and warp screens.

Before you begin to clean the entire surface, find an inconspicuous area to test your pressure and technique.
TIP: Don't skip the prep work.
The plants and grass around your home are easily damaged without proper precaution, so take the time to prepare the area for your project. Soak down all plants before, during, and after the pressure washing. This will dilute the chemicals and keep them from sticking to your plants and harming them.

Move any vehicles and cover any outdoor furniture that might be in the way in order to protect them from the powerful stream and chemicals.
TIP: Safety first!
Always consult your machine's manuals. High water pressure can cause severe damage to your property, and severe injury to yourself or others, and you want to make sure you learn the correct way to handle the equipment.
Before activating the machine, make sure the tip is directed away from windows and even more importantly away from people and pets.

Stay off ladders and scaffolding. It is easy to become unbalanced while waving around the spray gun, having to adjust the hoses and power cords, and simply from the pressure of spray gun itself.
Know the limits of your machine. Dirt, grime, and mildew are generally easy to remove, but certain stains, especially deep set stains or rust, fertilizer, or motor oil stains, will be tough to remove, and if you're not careful, you could do more damage than good.

Know your own limits. Pressure washing can be a wet, frustrating, time-consuming task. If you need to move around heavy ladders, or walk along slick surfaces, including rooftops, the project can become even tougher and more dangerous. There's a reason most homeowners prefer to call a good professional pressure washing company to do the work for them! If that sounds like the right solution to you, find the best professional pressure washers in town and leave the job to them.
Skip the mess, the hassle, and the risk and call on a professional pressure washing service to take care of your power washing project. First Coast Home Pros is the best pressure washing company Jacksonville FL homeowners trust with their homes and property. Ask any of our clients throughout Mandarin, Riverside Avondale, Nocatee, Ponte Vedra Beach and beyond and they'll tell you we treat their homes as if they were our own. We use our training and expertise to get the job done right each and every time. When it comes to pressure washing, trust your house to the best pressure washers in town. Call today and let us get started on your project!