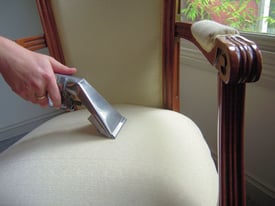 Your furniture receives constant use and therefore needs care and cleaning from time to time. Regular cleaning extends the life of your furniture, rids it of dust, dirt, and potential allergens, and helps keep it looking great. When stains or spills occur, immediate attention and cleaning can preserve your furniture further. In many cases, you can identify and treat a spill or stain right away using a simple homemade cleaner or by purchasing the right chemical cleaner. In other cases, you may need to hire professional upholstery cleaners for a large or tough stain or simply for a yearly cleaning to maintain your furniture's appearance. The following tips will help you keep your furniture upholstery looking and feeling great!
Tips For Cleaning Your Own Upholstered Furniture
The best way to keep your furniture looking its best is to clean it regularly and to immediately address stains and spots as they occur. Furniture and fabric manufacturers recommend cleaning your furniture routinely rather than waiting until it looks worn or soiled. If you wait until furniture is severely stained and dirty, you may not be able to restore the fabric's original color, texture, or appearance. The following steps will help you through the process of cleaning your upholstered furniture.
Step 1: Check furniture tags
Read the tags and labels on your furniture or look on the manufacturer's website in order to know how to treat each piece.
Deciphering upholstery tags:
W or WS: Use a water-based cleaner.

S: Use a dry-cleaning solution rather than a water-based cleaner. (Since dry-cleaning solutions typically contain strong or toxic chemicals, it is recommended to hire professional upholstery cleaners for these labels.)

X: Professional cleaning only.
Step 2: Identify stains
Identify the stains and spots before treating them. Certain stains such as coffee, wine, food, and even urine from a pet or child are easy to lift with steam-cleaning. Other stains, particularly oil-based stains are tougher to get out and may require chemical-based cleaners. By identifying the stains you'll be able to plan how to treat each one, whether through steam cleaning or a cleaning solution.
Step 3: Choose the right cleaning solution
If you choose to purchase a cleaning solution, buy a nontoxic one if you have children or pets in your home, and hypoallergenic solutions if anyone in your home suffers from allergies. You may choose instead to create your own cleaner. A nontoxic and environmentally-safe water-based cleaner can be easily made by combining one cup of warm water with one quarter cup dishwashing soap and whisking it until it is foamy.
Step 4: The cleaning routine
First, vacuum your furniture thoroughly before cleaning in order to remove loose dirt and debris and to make water-based cleaning products more effective. Remove all cushions first, and remember to vacuum in each crack and corner.

Create the cleaning solution by combining one cup of warm water with one quarter cup of dishwashing liquid and whisking it until it is foamy.

Test a small or hidden area of the fabric to be sure your cleaner does not damage the furniture or affect its color or texture. (If you are using a cleaner that you purchased, be sure you are using it according to the instructions on the can or bottle.)

Use a soft-bristled brush to gently rub the foam into the upholstery.
Use a spatula to lift off the foam.

Use a damp, clean cloth to wipe away any remaining foam or residue.

Finally, let the area dry completely. If the stain is still there, repeat the process once the area has dried.
Before embarking on a major cleaning DIY project, consider the cost of the cleaning products you'll need. A bottle of specialized cleaning solutions can cost $15-20 or more, and your cleaning project may require several bottles. You may want to compare this cost with the cost of hiring professional upholstery cleaners. If you are considering renting a steam cleaner, you may want to likewise compare the rates of a steam cleaner rental to the cost of hiring professional upholstery cleaners. It will most likely save you money and considerable time and effort to hire a professional cleaning team!
Benefits of Professional Upholstery Cleaning
The simplest solution is often to hire a professional upholstery cleaning company for your furniture. Professional upholstery cleaners will not only save you considerable time and work, but will ensure that your furniture is receiving high quality care from experienced technicians using professional-grade cleaning products and tools. Just make sure the upholstery cleaning company you choose properly trains its employees and ensures they are certified and have experience in cleaning the type of upholstery you have in your home, or in treating the type of stain you need cleaned.
There are several reasons to hire a professional cleaning company:
Professional upholstery cleaners have been specially trained to remove stains and spills of all kind, so if there is a stubborn stain you cannot remove, chances are they can!

If it is time for your yearly or semi-yearly furniture cleaning and you simply don't have the time to do it yourself, a team of professionals can quickly complete the task for you.

If you don't want to spend the money on expensive bottles of specialized cleaning solutions, a professional cleaning company may be a cost-effective way to get clean furniture without spending a small fortune on one-time use chemicals.
Even if you spot clean your furniture yourself, the Institute of Inspection Cleaning and Restoration Certification (IICRC), recommends that your furniture is cleaned by professional upholstery cleaners at least once every 12-24 months. This regular professional cleaning coupled with your own attention to spills and spots as they occur, will ensure that your furniture maintains the texture and appearance you love.
Professional Upholstery Cleaners in Jacksonville, Florida
Jacksonville is home to First Coast Home Pros, Northeast Florida's best professional upholstery company. Our technicians are trained to treat any type of stain, spill, spot, or smear that can appear on your furniture. We have gentle cleaners for your finest antique furniture, and powerful dry-cleaning solvents for even the toughest stains. We also offer general cleaning of your upholstered furniture, specializing in both dry cleaning as well as hot water extraction. Different fabrics call for different cleaning methods, and we pride ourselves in our thorough understanding of the correct cleaning methods for each different type of furniture fabric or upholstery. If your living room furniture is looking overused, or your patio furniture is in need of a thorough cleaning, we have a team of trained and certified technicians ready to transform and revitalize your well-worn furniture. Our highly trained technicians have years of experience cleaning all types of upholstered furniture, including sofas and sectionals, dining room chairs and ottomans, throughout Jacksonville, Atlantic Beach, St. Augustine, Ponte Vedra, and Ortega. Let us give your furniture the cleaning and care it deserves!