Summer is a a great time to delve into serious cleaning projects and deep clean those forgotten nooks and crannies throughout the house. However, while you're busy scrubbing the kitchen and bathroom and airing out the bedrooms, don't forget the outside of the house. Some of the most important cleaning you can do is in the gutter!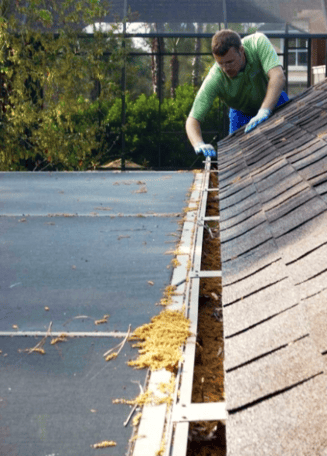 The Importance of Gutter Cleaning
Clean gutters keep things running smoothly. When the gutter gets clogged with leaves and debris, rainwater has nowhere to got and will spill over your full gutters, dripping on you as you enter your house, causing your home to look unkempt, eroding your landscaping, and causing pooling around the foundation of your home. Not only are these issues unsightly, but they can be downright costly. Gutters that sag with debris will sag and pull away from the house, causing damage. Water that pools near the foundation can cause flooding and other expensive damages. Protect your home by keeping those gutters clean and clear!
Tips for Cleaning Your Gutter and Roof
Use these tips to get your roof and gutter into good shape for springtime:
Wear the right protective gear: Gutter protection can be a dangerous DIY project if you don't wear the proper safety gear. You need sturdy, non-slip shoes or boots when climbing and standing on the ladder, and certainly if you get onto the roof at any point during the project (which should be avoided if at all possible). You'll also want to wear thick work gloves. Average gutter debris consists of muck and decaying leaves, which are a nuisance to handle, but sharp sticks, nails or bits of metal, and animal waste can also be mixed in, and your hands should be protected from touching such matter.

Practice ladder safety: Inspect your ladder before you use it to make sure it is in good repair. Set up your ladder safely, checking that the ground is firm enough to accommodate it, and never resting it against the gutters themselves.

Use the right tools: Gutter cleaning can be a fairly simple project, as far as the equipment you need. You need heavy duty trash bags and your garden hose. Simply scoop out debris and load it into the trash bags and set the filled trash bags out to be collected with the rest of your household trash. If you prefer, you can load the debris into a bucket and then empty the bucket into a wooded area of your property and compost the materials. Then, flush your newly-emptied gutters with a gentle flow from your garden hose. Don't forget to flush out all downspouts, too.

Get help: It's best if you have help in a gutter cleaning DIY project. Having someone to spot you on the ladder makes the job safer. And of course, having an extra set of hands cleaning debris and flushing gutters makes the job go faster!

Be careful: Gutter cleaning, while a relatively simple and menial task, can be very dangerous. Move cautiously and do not take any unnecessary risks.

Hire professionals: Gutter cleaning is an extremely important home maintenance task, and while it's relatively simple, it's disproportionately risky for how simple it is. It is wet, mucky work, and it is best left to the pros. Save your time and take the risk completely out of the equation and call on a team of highly trained gutter cleaning professionals to do the work for you!
The Best Gutter Cleaning Jacksonville FL
When it comes to cleaning, our teams at First Coast Home Pros are the experts, and gutter cleaning is no exception. Our gutter cleaning technicians are highly trained in the skills needed to perform great gutter cleaning on every home, every time. We have the best equipment in the field, the expertise to clean all types of gutters thoroughly and efficiently, and the training to do so safely. We're known throughout Mandarin, San Marco, Riverside Avondale, and across Jacksonville as the best gutter cleaning professionals in the area. Let us go to work on your home!