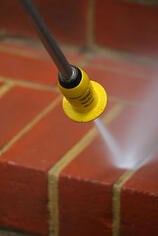 There are few better ways to remove accumulated dirt and grime from the outside of your home than with pressure washing. Unfortunately, not all pressure washing companies offer quality services. Some use outdated equipment that no longer offers a thorough cleaning, while others may not properly vary the pressure as they clean different parts of your home. At First Coast Home Pros, we take pride in offering our customers the highest quality, most effective pressure washing services in the area. However, we don't want you to just take our word for it. Take the time to interview other pressure washing services before hiring them to pressure wash your home. Make sure that you ask these five questions to ensure that you get a thorough, safe and effective cleaning for your money.
What cleaning process do you use?
High pressure is not the secret to a good pressure washing. In fact, you want to avoid companies that simply use high pressure over your entire home. At First Coast Home Pros, we use a mildly chlorinated solution, which allows us to wash your home at a lower pressure. This means less risk of damage to your vinyl siding, roof and other materials. Our chlorinated solution is a much milder option than the strong cleaning chemicals that some companies use. In asking this question, you are also ensuring that the company you hire varies the pressure used depending on the surface. At First Coast Home Pros, we use the lowest pressure possible on delicate surfaces, and turn up the pressure only when safe and necessary on more durable surfaces.
Do you pressure wash windows?
Never let a contractor pressure wash your windows! This is an almost certain recipe for disaster, even if low pressure is used. Window cleaning is a separate process. Our pressure washing Jacksonville, FL company also offers window washing. If your windows are dirty, ask us to perform this service when we also pressure wash your roofing and siding. Don't try to save money by hiring a company that says they can just power wash your windows at the same time. You'll end up spending thousands on new windows.
Can you show me some before and after pictures?
Any pressure washing Jacksonville, FL company that gets good results should be willing to show you those results. Do not take any company's word that they bring houses from dusty to sparkling without witnessing it yourself. When browsing before and after photos, look for homes that have similar siding or surfaces to your own. This helps you get a better idea of what your home will look like after the cleaning. If a company does not offer before and after photos, cross them off of your list.
Do you have insurance for all of your workers?
One of the reasons to hire a pressure washing Jacksonville, FL company rather than doing the work yourself is because it can be dangerous. Even seasoned professionals get hurt occasionally. Make sure that the company you hire has insurance to pay for any injuries that the workers may suffer on the job. If they don't have insurance, you could end up being liable for the medical expenses that accumulate when an employee suffers even a minor injury. First Coast Home Pros is fully insured, so you are never at fault if an accident does happen. Our employees are well trained, which reduces the risk of accidents, but we still operate under the assumption of "better safe than sorry" when it comes to protecting our customers and our workers.
Do you offer a guarantee for your work?
Steer clear of companies that do not offer a guarantee for their outcomes or are unwilling to discuss that guarantee. At First Coast Home Pros, we offer a 100% guarantee for one week after your pressure washing service. This means that you have a week to inspect your home and find any inadequacies. If you are unhappy with the job that we have done, you can call us and we will make it right. We feel that a week is long enough for you to thoroughly inspect your home, but not long enough for significant dirt to re-accumulate.
All pressure washing companies and services are not created equal. By asking these questions, you can dig behind the marketing gimmicks and find one that truly offers quality services. Weigh several different companies' answers, and we think you'll come to the same conclusion that we did. First Coast Home Pros is a premier choice for pressure washing in Jacksonville, Florida.