Few things diminish the aesthetic or lower the curb appeal of a home more than black streaks on the roof. If you've noticed black streaks on your roof, you're probably wondering what those streaks are and how you can get rid of them!
What are the Black Streaks on My Roof?
The black streaks that seem to run down roofs and shingles are a type of photosynthesizing bacteria called Gloeocapsa magma(often simply called "magma"). This type of bacteria closely resembles algae and thrives in a cool, damp climate. It is most likely to appear on the northern slopes of roofs where it's darker and wetter, and any areas of your roof that are in the shade for much of the day. Homes in the Southeastern United States, which of course includes Jacksonville FL, are more prone to this algae-like growth on their roofs because of the humidity. If you live in a shady neighborhood in Mandarin or on a street in Riverside with a lot of tree cover and little sun exposure, your roof is susceptible to this black streaking.
How do I Get Rid of Black Streaks on My Roof?
So, what do these black streaks mean for your house? First, you'll need to determine whether you want to completely replace the roof or simply hire a great professional roof cleaning company in your area. Consider replacing your roof if there are no granules left on the shingles, or if the shingles are brittle, or if shingles are missing. Otherwise, it's exponentially more cost effective to call on a highly rated pressure washing or roof cleaning service to remove the black streaks and buildup on your roof.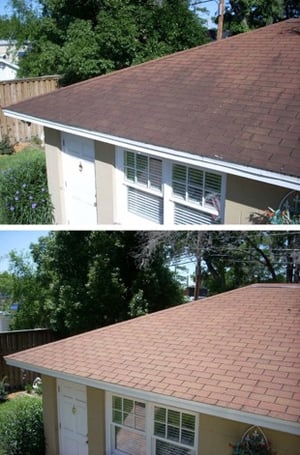 Importance of Hiring Roof Cleaning Experts
It's important that you hire a company that specializes in roof cleaning so that the project gets done safely and the black streaks are removed. The roof cleaning service you call on should fit these criteria:
1. The company should use very low pressure, sometimes called "soft wash" to clean the roof so that the shingles are not stripped of their granules.
2. The company should be very highly rated, with technicians trained to safely and properly remove magma, moss, lichen, insect infestations, and all other issues that affect roofs.
3. The company should use the right combination of low water pressure and effective cleaning solution in order to rid the roof of its black streaks and other issues. Chlorine is the best roof cleaning solution, and a highly rated roof cleaner will know the precise mixture of chlorine, water, and other additives to use that will leave your roof completely clean, causing no damage.
The Best Jacksonville FL Roof Cleaners
First Coast Home Pros is the best cleaning company Jacksonville FL homeowners trust, and our roof cleaning team is beyond compare. Our technicians are skilled and trained to clean your roof efficiently, safely, and thoroughly, ridding it of black streaks, removing debris, and leaving behind nothing but clean shingles. We're the first choice of homeowners in Avondale, San Marco, and Ponte Vedra Beach, and we'd love to clean your roof so that you can enjoy your home's appearance once again!