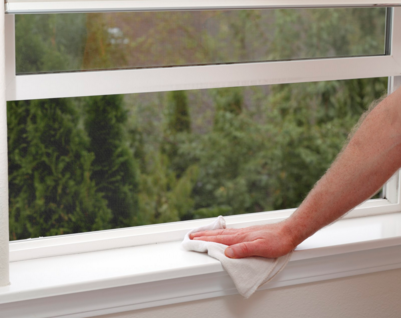 It's no secret that clean, clear windows make all the difference in your home's appearance. It's also no secret that window washing can make a satisfying weekend project, but, once you consider the safety risks, the cost of materials, and the time commitment, it's really a chore best left to the professionals. But how do you find the best window cleaning professionals for the job?
Three important qualities will distinguish the best window cleaners from the rest: a commitment to quality, highly trained technicians, and the best tools of the trade.
Commitment to quality -

The most telling feature of a great window cleaning company is its commitment to high quality work. A great window cleaning team will not cut corners, won't rush through a job, and will make sure that they treat your home - and you - with outstanding care and attention. Good window cleaners take pride in their work and are passionate about leaving your home looking more beautiful than when they arrived.

Highly trained technicians -

A professional window cleaning service is only as good as its technicians, and the really great window cleaning companies invest in their employees by ensuring each one is properly trained in the best techniques. The best window cleaners are efficient, but also meticulous, paying close attention to detail. Trust the best window cleaners to make your windows cleaner than you imagined they could be - with proper training and practice, it's possible!

Tools and materials

- You can learn a lot about a window cleaning company by the tools and materials it uses, and a good window cleaning service will use only the best. Your team will need good ladders and telescoping window washing tools in order to reach even the smallest, highest, and hardest-to-reach windows on your house. They should work on your windows using squeegees and soft towels, and when they are finished, your windows should be streak-free and crystal clear, with no residue, buildup, or other debris. The best specialty cleaning solutions in the industry are specifically formulated to actually make your windows stay cleaner longer, giving you the best results and a long lasting glow.
Clean windows make your home brighter and more beautiful, not only for you and your family to enjoy, but also for neighbors and guests to admire. Having your windows professionally cleaned is also a great investment in your home. Clean sills, panes, and screens will help to extend the life of your windows, and removing mildew, dirt, and cobwebs creates a better environment for your family. Insect infestations can bedevil any house, but a high quality window washing job will help ensure any hornets, dirt dobbers, bees, and spiders don't make your home their home.
First Coast Home Pros is the best Jacksonville FL window cleaning company, and the company to trust with your home. Our technicians are extensively trained, courteous professionals, eager to get to work on your home. We specialize in providing sparkling clean windows along with outstanding customer service with each and every job. Find out what homeowners in San Marco, historic Riverside Avondale, Ortega, and downtown Jacksonville already know - First Coast Home Pros is the best professional window cleaning service in town!