The hardwood flooring in your home represents a significant investment. When it's time to clean it, how do you know what to clean your wood floors with and what to avoid? Here's the scoop: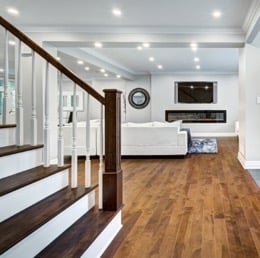 What to avoid using on your hardwood floor:
· Vinegar – This acidic product can etch the surface of the wood, creating dullness.
· Ammonia – Like vinegar, the acid in ammonia can damage the wood.
· Wax – Wax leaves a film on the wood that will cause it to look dull and could discolor the wood.
· Wood Furniture Wipes or Cleaners – Household wood cleaners or wipes will leave behind a residue on the wood which can collect dust and debris, making the floor even dirtier. Plus, chemicals in such cleaners can damage the wood.
· Wet Mop – Don't use a wet mop on your wood floors because standing water will damage the finish and likely cause the wood to warp.
· Steam Cleaning – Though steam cleaning (also known as hot water extraction) is the best way to clean carpet, it's extremely damaging to wood flooring. Water can warp the wood, and the heat and steam can even cause the wood to crack.
So what's the best way to clean your hardwood floors? The best way to keep your hardwood floors clean is sweep or Swiffer it frequently, damp mop it several times per week, and wipe up spills as they happen, generally just using a damp cloth. Several times per year, it's also recommended to call on a highly rated wood floor cleaning company to professionally clean the floor. A great local floor cleaning company will have technicians who are expertly trained to use the right cleaning solutions on your floor, coupled with the best equipment in the industry and years of training and experience to get your wood flooring clean and sanitized, with no residue or damage. First Coast Home Pros is the best wood floor cleaning company and the team to trust with your floors. We're the trusted service provider for customers throughout Nocatee, Southside, Riverside, and the Beaches. Treat your wood flooring to a deep cleaning from First Coast Home Pros!