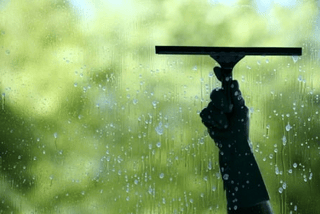 Clean, clear windows make all the difference in your home's appearance. Window cleaning is a big job, but with the right tools and research it can make a satisfying DIY project. While some homeowners like to tackle the windows on their own houses, many still prefer to call on a good window washing company to do the work for them. We'll help you decide what's right for you!
Four Reasons To Hire A Professional Window Washing Company
There are four main reasons a homeowner might choose to hire professionals to clean his or her windows.
Reason 1: Convenience
Hiring professional window cleaners allows you to do other things. Many homeowners are simply too busy with work, or too tired after a long week to attempt a window cleaning project. Others hire professionals so that they can relax on the weekend instead of taking on a sweaty, messy project. Good professional window washing teams are also able to do the work in a fraction of the time it would take you to do it. After all, these teams wash hundreds of windows per week and have it down to a science. It's convenient to hire a team to do the work in a few hours rather than spend the entire weekend on it yourself.
Reason 2: Quality
If you take the time to find the best window cleaning service in your area, you will be getting high quality work. The best window cleaners have years (if not decades) of experience using the right techniques that will leave your windows streak-free and crystal clear. A great professional team will be fully outfitted for any and all window cleaning projects. That means they'll have the best vehicle and equipment on the market, as well as ladders of all sizes, telescoping window washing tools, and industry-specific cleaning solutions. Depending on your preferences, they'll be able to remove and clean any screens, and clean your windows from the inside as well as the outside. Each technician will be highly trained, with an eye for detail, removing all smudges, streaks, and cobwebs from your windows.
Reason 3: Safety
A big reason that many homeowners choose to have their windows professionally cleaned is the issue of safety. Window washing is a wet job that creates slick surfaces. It also almost always requires the use of ladders, sometimes very large ladders. Many homeowners are simply not comfortable in situations that combine slippery surfaces and tall ladders. In many cases, you need to climb on the roof to wash upper story windows, and navigate obtrusive landscaping to get to the hard-to-reach windows. And then there is the issue of insects. Removing insect infestations is a necessary part of window washing. Wasps build nests among the layers of storm windows, ladybugs build homes along the channels of your windows, and here in the South, dirt dobbers and mud wasps will build their messy nests right onto your screen or awning if they get the chance. Save yourself from the stinging insects, slippery surfaces, and rooftops by calling in the pros!
Reason 4: Cost
You could grab a bucket and buy some dish soap and clean your windows for the cost of just a few dollars, but your results will hit well below the mark. If you want windows that are actually clean and looking good, you'll need to invest in the right tools and cleaning solutions, to say nothing of the larger equipment, such as ladders. Depending on the size of your house, the number of windows you have, as well as their locations and styles, you can plan to spend anywhere from several hours to the entire weekend washing your windows. If your time is more valuable somewhere else, call professional window washers and go do that.
The Best Jacksonville FL Window Washing Company
If you live in Northeast Florida, you never have to wash a window again. First Coast Home Pros is the best Jacksonville FL window washing service, and our technicians would love the opportunity to tackle your biggest window cleaning project. Homes in downtown Jacksonville, Riverside, Ortega, and along the beaches and coast have never looked better thanks to our expertise. We are passionate about clean windows and specialize in giving our clients streak-free, high quality window cleaning, along with the best customer service they've ever had!