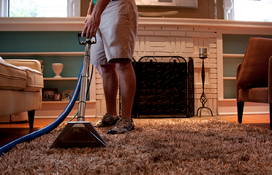 A neverending trail of dirt, grime, and bacteria gets tracked into our homes and ground into our carpet. Vacuuming is a good way to keep daily buildup under control, but yearly professional carpet cleaning is truly the best way to give your carpeting a safe and thorough clean. Which carpet cleaning method is the best one for your own home?
Hot Water Extraction Method vs. Dry Compound Extraction
Carpet cleaning techniques can be grouped into two main categories: hot water extraction, and dry compound extraction. The hot water extraction method, or steam cleaning, uses high pressure and extremely hot water to achieve a thorough clean. Water is typically heated to 200 degrees or more, combined with a gentle cleaning solution, and flushed into the fibers of your carpet. The water and cleaning solution are simultaneously extracted using a powerful vacuum, resulting in a thoroughly cleaned and sanitized carpet. The carpet will remain moist for a brief time, but will dry evenly within a few hours. Overall, the steam cleaning method successfully cleans, rinses, and flushes your carpet, taking away dirt and germs as it extracts the hot water, and leaving behind only soft, clean carpet.
The alternative to the steam cleaning method is dry compound extraction, or dry carpet cleaning. This method relies almost entirely on chemicals. These chemicals may be sprinkled onto carpet in powder form, scrubbed into the carpet fibers, then vacuumed. The powders are an abrasive combination of detergents and solvents, and can damage your carpet fibers and leave a powdery residue behind. The other way to dry clean carpets is to spray a chemical solvent, then buff it out using a rotary machine. This method also leaves residue behind, and in the worst cases, releases the chemicals directly into the air, polluting your home rather than cleaning your carpet. Beyond their inefficiencies, the chemicals used in dry compound extraction may be harmful to your home's residents, including pets and children.
Simply put, steam cleaning carpet companies use pressurized hot water and a cleaning solution that's as safe as dishwashing soap. Dry carpet cleaning companies rely almost exclusively on potentially dangerous chemicals and ineffectual application methods.
What Is Best For Your Own Home?
The carpet in your home should be cleaned in a way that is not only effective and safe for your family, but safe for the carpet according to its manufacturer. Most carpet manufacturers will indicate the preferred or recommended carpet cleaning method to be used on their carpets. This information can usually be found on the manufacturer's website. The hot water extraction method is recommended and preferred by nearly every carpet manufacturer. Indeed, many manufacturers will even void your warranty if you don't use that method when cleaning your carpets!
The Best Carpet Cleaning Service In Northeast FL
There are many Jacksonville, FL carpet cleaners, but First Coast Home Pros is the best carpet cleaning company you will ever invite into your home. Our technicians are experts in hot water extraction, and are trained extensively to know the right pressure level, water temperature, and amount of cleaning solution needed to give your carpet a thorough deep clean with minimal dry time. Our technology is the most advanced in the field, and includes the best truck mount equipment available, high quality cleaning solutions, and a deep industry knowledge of the skill needed to remove stains and spots and leave each carpeted room in your house perfectly clean. If you live in Ponte Vedra Beach, St. Augustine, Atlantic Beach, Riverside, Ortega, or anywhere in the greater Jacksonville area, look no further for the best carpet cleaning experience you'll ever have.